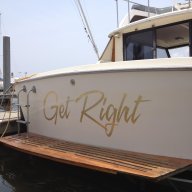 Legendary Contributor
EPIC CONTRIBUTOR
Read Fastlane!
Read Unscripted!
Summit Attendee
Speedway Pass
I've been thinking (and researching) about comfort zones and how they can hinder your ability to grow as a person. There is also evidence that your business can stall/suffer if you stay in the comfort zone too long. My research is starting to convince me that pushing yourself and your business out of that zone could open some possibilities for unseen growth. As a secondary topic I am interested in how this relates to individual happiness. (I'm guessing that increased happiness might exist just outside of the comfort zone).

Although there is some research and opinions about this, I haven't really found a study that combines all these ideas into one thesis. So, I am going to create a real-life study/showcase and document it right here! And the guinea pig is going to be....well...me.

For this experiment I will be pushing 2 things out of the comfort zone. Those are:
1. myself personally
2. my spec-home business (thread below if you want to know more about that)

I will be documenting:
1. My mental state and hopefully any lasting changes (these my be hard to identify but I'll try).
2. Any change in the business. That can be financial/scale/ease/etc. Once I see some changes I will categorize them so we can track changes with some sort of metric.
3. My personal happiness. I took a baseline happiness test and will update it periodically.

Things I will be doing - finding all possible areas to push the comfort zone both personally and business. I will have to find most of these but you are certainly welcome to submit your ideas! These will be along the theme of:
1. Personal - Go to a float tank for 3 sessions. Several ways that pushes me out of the CZ but mainly I'm not too comfortable with the "lost in your head" scenario.
2. Business - Delegate stuff I normally do. This pushes me out of the CZ because I really like to do things myself. It's a perfection issue, so let's push it ha!

Things I will not be doing:
1. Cliff diving or taming Cobras. Not looking to die in some adrenaline rage.
2. Take serious risks to my health or my business. I'm not betting the house on red but I will push until I'm uncomfortable.
3. Faking CZ issues just to provide content. These studies are meant to push the CZ, inherently I'm not going to want to do them. Feel free to call me out on this.

So here we go! Feel free to comment, add suggestions, ask questions, join me, whatever floats your boat...out of your Comfort Zone!