Sweeping Shadows From Dreams
FASTLANE INSIDER
EPIC CONTRIBUTOR
Read Fastlane!
Read Unscripted!
Speedway Pass
User Power
Value/Post Ratio
570%
Jan 14, 2013
4,824
27,514
In November, I launched a digital product. In under 30 days, I generated over $2,000 in sales.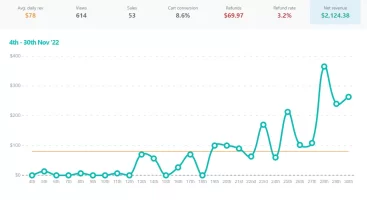 Four months later,
the site had its first $2,000
week...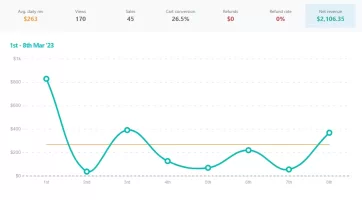 I've been documenting this progress in
my Insider's thread here
.
Now, I'm going to show you how to do it.
Here are some things to know:
The idea is not new or novel
There are no inventory costs
I created the product in a day and had it for sale in a month
The product is not attached to my name
The business is almost entirely automated
The business generates mostly passive income
Anyone from any country in the world could replicate this if you're not a pussy with a shitty attitude
So what is this thread for?
I decided to replicate the process across multiple websites to create a variety of new passive-income streams and you can try it for yourself if you want. Feel free to ask questions. I'll respond when I can.
What does the process look like so far?
I started on both ideas yesterday. I expect to put in 4-8 hours per day for around 30 days to get both launched. Then probably less than an hour per day for each site. Okay, here we go:
1.0 The Product
Both of the new websites will sell digital products. One site will sell one of the products from my first site but to a different niche. The second site will sell a product I have never tested before to a new audience.
1.1 Product Requirements
Must be a digital product (i.e. text, video, audio, illustrative, etc.)
Must be simple to create (i.e. I can create it in a day)
Must have proven sales (as indicated by other sellers in the market)
Must have an angle that will give me an edge over competitors
Must be something I can sell through my own website
Must not require ongoing support or complex systems
1.2 Examples of Potentially Good Digital Products
Short ebook, templates, guides, checklists, sound effects, music, vocal recordings, videos, digital illustrations, digital software, etc.
Niching down is generally what makes any of these *good.*
1.3 Product Creation
I want products that can be created fast (like less than an hour). I got ideas from products sold on other sites like Envato, Etsy, Ebay, etc. I also used Google Adwords to check out search volume for keywords. For product creation, I used
Canva
(I pay for the $9/mo version) and
Envato Elements
(I pay for the $197/yr subscription).
2.0 Domain Name
Once I decided on products, I needed a domain name for the websites. I used
Namecheap
to run domain searches and
Wordhippo
to help brainstorm name ideas. I purchased the domains through Namecheap for $9 each (less for new accounts). Since I already have web hosting with
ChemiCloud
, I pointed the domains to ChemiCloud. You can buy domains on ChemiCloud, but it's not as cheap. I also set up SSL through ChemiCloud to secure the site's domains.
2.1 Domain Name Requirements
Three words or less
Has one or more of the keywords in the name
Flows well
Easy to read, remember, and repeat
Ends in .com
3.0 Website
In cPanel inside ChemiCloud, I added the two domains and set up support emails as
support@domainname.com
for each site. I forwarded both of these to my personal email (so I don't have to log into multiple emails every day). Then I installed Wordpress using their Wordpress Manager.
3.1 Basic Setup
With Wordpress installed, I visited the site's backend. Now I checked the "General" settings to confirm the URL showed "https" for security. I also checked the permalink settings to confirm they are set to "Post Name" for the blog. Next, I installed my core plugin stack:
Classic Wordpress Editor (I don't like Gutenberg)
Yoast SEO
Thrive Product Manager (which includes several plugins and my theme)
Thrive Product Manager comes from
ThriveThemes
. You could replicate my process without Thrive (and probably cheaper), but it's my preferred method since Thrive's products are built for marketers (and because I already pay for it).
3.2 Web Pages
Once my plugins were installed, I created all of the core pages:
Home Page
About Page
Contact Page
Terms Page
Privacy Page
Disclaimer Page
3.3 Thrive Themes Setup
With the pages in place, I launched Thrive Builder and installed their "Kwik" theme because I like it. It's wizard walks me through several important steps like adding my
logo
, page and blog structures, header and footer structures, menu, brand colors, and typography.
3.4 Logo Creation
I used a
Canva
logo
template to create a
logo
for the first site, then I replicated the
logo
in the brand colors of the second site, and replaced the first site's name with the second site's name. Beyond that, the logos are identical. Took all of 10 seconds.
3.5 Core Content
For the Terms, Privacy, and Disclaimer pages I copy/paste from a similar website (in this case my own) and then replace their website's info with my own and change areas as needed to be relevant for my sites. For the About page, I stay as simple as possible and write one to two paragraphs about my site. For the home page, I create a main image area with a headline and a call to action leading into a button that goes to the shop page (shop page doesn't exist yet tho). The rest of the page can remain blank for now. You'll see why in the next section.
3.6 Checkout System
One of my websites uses
ThriveCart
(costs $500 one-time). The other site uses
WooCommerce
plugin (free but pay for add-ons if you need them). Once WooCommerce was installed, I went through the wizard to setup all the basic stuff like payment methods and whatnot. Once ThriveCart and WooCommerce were set up, I created basic product pages and then I placed those products on the home page of my website as the content for that page (that's why I left it blank earlier). If you use WooCommerce, they will create a shop page for you. Otherwise, you can create a shop page now.
4.0 Email
Email plays a key role in the success of these businesses (particularly email automation). I use
ActiveCampaign
on the Plus version. ThriveThemes integrates well with ActiveCampaign, as does ThriveCart. There are other email services you can use that cost less or are free to start.
Next Steps?
All of the above was accomplished in one day.
Next, I'll finish WooCommerce setup, optimize the site for mobile viewers, set up a YouTube account for one site (because it will be a good traffic source), create about six products for one site, and around 50 for the other site. After that, I'll turn on Google Ads and see how much it costs to get someone to click on my website and buy the product.
Once all of that is finished, the last step left is to grow the email list, and refine and test everything (pricing, design, emails, etc.) to get people to buy faster with lower acquisition cost.
Growth & Scale?
Long-term, I can bring on freelancers to manage things like the website, products, and email. But one person can bring this to $4k - $10k/mo, maybe more, before hiring becomes necessary.
Ready?
I don't plan to post updates every day. There will be parts you have to figure out on your own. If you want to build a $4k+ per month passive-income that you control, then this thread should help.
Disclaimer:
There's no coaching offer at the end of this. No course. Don't DM me for private questions about this. If your question can't be answered in this thread, then it can't be answered by me. Lastly, it's entirely possible that I may fail and you may too, so you need to not be a weenie to make this work for you.
Last edited: