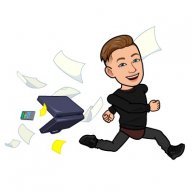 Contributor
Read Fastlane!
Read Unscripted!
User Power
Value/Post Ratio
92%
Sep 14, 2017
52
48
23
So the past months I've been procrastinating on my fastlane journey for really dumb reasons. A few months ago I already "discovered" several business ideas (that would solve needs) in different niches but since then I've been procrastinating any further evaluation. Therefore I haven't progressed or taken any action on my fastlane journey.
To change th
at I've created this thread --> commit myself + provide value for you
​
My plan is to journal my fastlane journey:
how I decide for one out of several ideas
how I execute on that idea
So first off I will journal how I evaluate my ideas and after I've decided for one the plan is to go into execution.

I hope that I can help some members with t
hat thread, even though I am in the very early stages of my fastlane journey.​
BTW I've stumbled across the Blue Ocean Stragegy and was wondering if you can you recommend it for the evaluation of ideas?
Last edited: