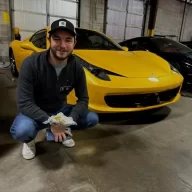 THE TRUTH IS OUT THERE
FASTLANE INSIDER
EPIC CONTRIBUTOR
Read Fastlane!
Read Unscripted!
Summit Attendee
Speedway Pass
Ok I didn't know that. This topic come up in my email newsletter and was interested in checking it out. I have no idea what is it the

INSIDERS

forum.

I don't subscribe to the

INSIDERS

, so I have no idea what is in there.

I certainly appreciate a success story posting an AMA, though I still don't understand the risk of posting the company name ¯\_(ツ)_/¯
I do not want my competitors, or my customers to know details about how I operate the business or what I went through. I don't want it to be searchable on google and lead people to here, which then leads people to my
INSIDERS
thread that details a massive majority of what i've done to build my company. It is a competitive advantage if they read my trials and issues i'm facing.
Will respond to everyone else soon.