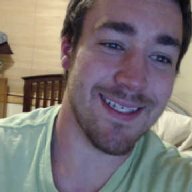 Bronze Contributor
Read Fastlane!
Read Unscripted!
Speedway Pass
I'm writing about cheese. Just keep writing and something will appear. I'm too tired to think clearly. When will the fog lift? Maybe in a few hours? This brain is finnicky and unreliable. Makes me wanna just simmalate into a robot already. Imagine a perfect robot mind. It'd be like taking some NZT-48 but it would never wear off. No side effects. No being tired. Unless I felt like dreaming. 49 years in 39 seconds I could spend in the matrix. Not the movie. But in my super fast robot mind.


All of this is coming to my dome. Straight off the top. Don't stop till you drop. Keep flowin' while it's snowin'


Discipline. It equals freedom. But how? Discipline is doing something to achieve a goal no matter what. A set of rules you give yourself to achieve your goal. You follow them no matter what. No excuses. Are you free If you don't accomplish your goals?


Freedom means the choice to do something. Without discipline you can not do it. You will be distracted by whatever life throws at you. It's chaos out there. You can embrace it or get lost in it. That could mean the difference between exceptionalism and mediocrity.


You see. Sometimes you gotta roll with the punches. Sometimes you get to punch back. And sometimes you make it out alive. You have a rendezvous with death. Discipline, is what scares the piper. He likes taking you when you are weak, when you are thirsty, when you are sick, when you are afraid.


You can do anything by just doing it. You don't need motivation, you don't need a reason. Just do it. You'll find a way. Do it no matter what. So that you can be free.


P.S. I know this is weird and may not make any sense. But some people you just have to reach out to differently.