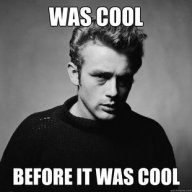 Bronze Contributor
Read Unscripted!
Speedway Pass
I know in the book Unscripted MJ talks about why its important to have a meaning-and-purpose:
While rewritten 3Bs inspire starting, your meaning-and-purpose and its motivation cycle inspire finishing.

I
also know without meaning I will give up too early, fail to finish and give up three feet from gold.
From spending some time on this forum I understand that the market is a selfish little brat. So my meaning and purpose shouldn't matter to them.
Why is it so important to have one I have written some whys but I guess they are not strong enough to get me to finish
Here are my whys:
To experience the best this life has to offer
Not being limited in the things I can do
Ease the burden for my mother
Prove my father wrong
To start dating

Be able to buy girls I like nice things
Support the things I like
To go into a store and know I can buy anything I want in there without having to worry
Start taking care of my life/health
Not have to keep track of what I spend
Be a role model to friends and family.
To become an Actor
UNSCRIPTION—never needing to work another day in your life
Maybe its because I haven't had the coveted FTE it just doesn't hurt bad enough for me.