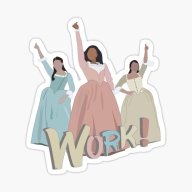 Bronze Contributor
Read Fastlane!
Speedway Pass
This first post in this thread is more of an update than anything, but I'm taking this idea off of the shelf I stuck it on back in 2013.

I've been MIA from the forum (and entrepreneurship in general) for a few years, so here's a quick-ish catching up... Skip to the bottom if you don't feel like reading.

2013: I started turning my freelance copywriting career into something scalable, selling pre-made marketing materials to fitness businesses... Then life happened and I found myself in a home life with more drama than a lifetime movie. Cue the clinical depression, losing my job, flunking out of college, sitting on my a$$ and gaining 100 lbs. I was in a dark, ugly place and had given up on entrepreneurship by this point.

2014: Got engaged and decided to change things. Lost 120 lbs, became a certified personal trainer, and started copywriting again. Started training in gyms all over Washington DC (I even trained Jake Tapper for a while), and also started taking on the marketing for gyms I worked for. I created email courses, ebooks, blog content, and 1-4 week challenges to bring in new clients and retain current ones. As I got more comfortable with creating these marketing materials, I started considering doing it on a grander scale. Didn't do it yet though. Fiance and I start thinking about kids, now that we're making good money.

2015: Started the year with a miscarriage. Slipped into a less severe depression, but used the pain to drive my personal training career. I became a top-selling trainer in my gym, bringing in tons of new clients every month, and maintained it until I got hurt on the job in November 2015. I got let go from my job, and the gym I worked for went out of business less than a year later... Some arrogant part of me thinks my marketing help was keeping them afloat. I start freelancing full-time again.

2016: Fiance dislocates his shoulder, loses his job, needs surgery, and SURPRISE- I'm pregnant. First few months of my pregnancy and his rehab are full of pain and complications, so we move in with his parents to ease the burden. I keep working freelance gigs until the week before my daughter is born. KopyKidd Jr. is born on Halloween, and I decide I'm going to start a business the second they place her in my arms.

2017: I'm still freelancing, but I'm creating my own marketing products/systems to sell to fitness businesses & personal trainers, since that's where I've got the most experience and the best results. I'm giving these systems to some of my personal training buddies to get feedback and learn what works and what doesn't.

TL;DR The past few years have sucked, but now I'm taking my copywriting skills and the sales/marketing process I developed as a personal trainer and creating products and systems I can sell to other fitness pros.