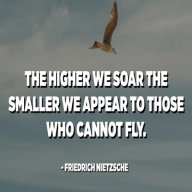 Platinum Contributor
FASTLANE INSIDER
Speedway Pass
Lost over 80+ lbs. Put on a ton of muscle. In the best shape of my life. Started a new brand. Doing extremely well. Branching out to more products under the same brand.

BUT...

I don't have a sense of satisfaction... it feels "weird"... like, what am I doing with my life... why?

Anyone that's successful ever get into these deep thoughts? Any tips on overcoming them?