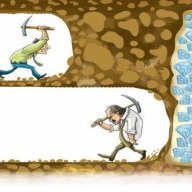 Never give up
FASTLANE INSIDER
EPIC CONTRIBUTOR
Read Fastlane!
Read Unscripted!
Speedway Pass
A business doesn't exist without sales.
You can have the best product ever, yet if you don't know how to find prospects and how to persuade them to try your offer, you'll make a big, fat zero.
Ironically, if I were to pick my weakest business skill, it would be marketing and sales.
Despite my weakness, I was lucky to build a successful self-publishing company. The problem is that I relied on big platforms such as Amazon to promote my books for me. As self-publishing became more popular, getting free organic traffic became more difficult. Today, an author without an existing loyal following or excellent marketing skills has low chances of success compared to how it was a mere few years ago.
Which brings me to this process thread. Because of my success (which, let me reiterate it, largely came down to being in the right place at the right time) delegating marketing to an external platform, I've become a lazy and ignorant entrepreneur. As I'm exploring new potential business opportunities now, it's apparent how much I'm lacking in the marketing department. Consequently, I have little confidence in my skills and feel like an impostor.
So I decided to go back to studying what got me interested in business about a decade ago -
direct response marketing and all related concepts, including sales and copywriting.
In essence, direct response marketing is
a type of marketing in which the goal is to elicit a specific, immediate response from a potential customer
. Usually it's a sale but it can also be a newsletter sign-up or any other specific action.
Originally direct response marketing relied on sending physical letters to potential customers and then fulfilling the order via mail. These days, it's mostly about driving paid traffic to a sales page. But it doesn't have to be—you can use it for a wide variety of business models, including services, SaaS, digital products, e-commerce, and so on.
What's important to understand about direct response marketing is that
it's the most rational and predictable approach to building a business there is
. You rely on numbers. They either work or they don't. You aren't spending years building a brand or pursuing similar vague goals. You build your business through acquiring paying customers.
Some direct response marketing heroes I studied in the past include Gary Halbert (to this day, his collection of newsletters is one of the best things I've ever read), John Carlton (what an entertaining writing style), and Jay Abraham (probably the greatest business consultant ever with brilliant strategies you'll never see anywhere else).
In this process thread I'll post my notes from various resources I'll study to master direct response marketing. I'll cover both dated but still super valuable classics as well as newer stuff. I'll also post some real-world examples of great marketing. Perhaps we can also work together to help improve our offers, copy, or anything else pertaining to direct response marketing.
My hope with this thread is to document my journey of mastering direct response marketing and to help others improve their skills, too.
In the next post, my notes from $100M Offers: How To Make Offers So Good People Feel Stupid Saying No by Alex Hormozi.
Table of Contents:
I can't edit this post forever so I created a separate website where I'll post links to new issues for easier navigation.
Last edited: