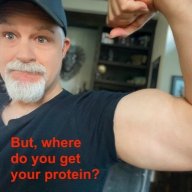 I followed the science; all I found was money.
Staff member
FASTLANE INSIDER
EPIC CONTRIBUTOR
Read Rat-Race Escape!
Read Fastlane!
Read Unscripted!
Summit Attendee
Speedway Pass
Jul 23, 2007
34,939
137,932
The Cancer Corollary as described in
Unscripted
.
When you have a serious problem that needs a solution ... focus and perspective is no longer a problem.
When you have the cure to cancer, no one is going to care that you want to own a Ferrari.