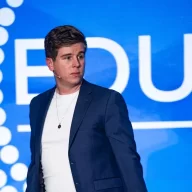 Bronze Contributor
Read Fastlane!
Read Unscripted!
Summit Attendee
Speedway Pass
User Power
Value/Post Ratio
504%
Aug 25, 2016
78
393
If you own a blog or a podcast then you know the process behind trying to make it successful...
The long nights spent
painstakingly crafting
every single word of you article. Debating whether your audience will
understand your message
. Hovering your mouse over the publish button, wondering if your post will reach those who need it most...
Or maybe you have a podcast and you're more familiar with being
crammed in your closet
while trying to sound super cheerful on the mike. The
late nights
spent editing to make your podcast sound perfect. The rush of dopamine you feel every time you get the "you have a new subscriber" email.
However, no matter how much you work,
your audience isn't growing as fast
as you want it to...
You could put in more hours into creating more posts, interviewing more guests, and pushing your pedal to the limit, but at what cost?
Your significant other might already be complaining about all the time you spend on your side projects, and your kids won't stay young forever...
So what can you do?
You can use the power of video!
When creating video, you used to have two options: spend a ton of time, or a ton of money
(most videos start at $500+/minute, would you believe that?)
But not anymore!
My company allows you to:
Unlock new audiences on YouTube who crave your content
Skyrocket your website traffic without marketing
And boost your conversions and bottom line
All for a price that works for businesses of all sizes.
You might be reading along and nodding, or you might be wondering: "
But Ilya, why should I use video? I've been doing fine without it.
"
Let me throw some statistics your way:
By 2019, internet video traffic will account for 80% of all consumer internet traffic.
Videos on a blog post lead to 157% higher traffic due to longer time on page, and less bounces.
Videos on social media get 1200% more shares than a simple text and image.
And finally: business that use video have seen a 49% increase in revenue compared to those that don't.
Now, I obviously can't guarantee these results. No one can.
However, here is
what I can guarantee
:
Your success is our success- Our logic is this: the better videos we create, and the more results you get, the more likely you are to stay on with us as a customer. It's a win-win for everyone!
My team and I will create high quality videos for you that I would use on my own blog and you get multiple revisions (up to unlimited) for each video to make sure you get exactly what you want. (In fact. I do use these videos on my own blog!)
We will try to make this process as hands-off for you as possible, and we will learn what you like and don't like to decrease the back-and-forth revisions and let you get back to other important things.
If you're ever unhappy with something, we will do everything we can to fix it, and if we can't fix it, we have a 30 day money back guarantee that's easy to get! (Unlike those Tai Lopez guarantees...)
At this point you might be wondering... So what kinds of videos do you actually create?
Here are some examples!
Example Videos
2D Cartoon Style:
Another example of a 2D cartoon style video that @
MJ DeMarco
might like.
(Let me know if you'd like
the source file! I don't think you ever looked at this video in the other thread.)

WhiteBoard Style:
Infographic Style:
The Process
Creating these videos is simple:
You submit a blog post, podcast episode, or a script you wrote to us.
You select the goal of the video. Do you want to get the audience interested in listening to or reading to the entire thing? Do you want a summary of it? Something different?
We edit the script, blog post, or podcast and select the best parts that we can use in the video and reach your goals.
We create the voiceover and video in your preferred style.
You get the video, provide feedback on what you like and don't like, and we go back and forth until you're happy with it.
And before we talk about pricing, I want to talk about something you're going to love.
To launch this business with a bang, we're doing a
1 year of animated video giveaway
. That's 48 videos and a $9588 value
(but who's counting?)

The giveaway is open to everyone and I would love for one of my FLF friends to be one of the winners.
(Especially MJ. Imagine how cool that'd be!)
Anyone can enter the giveaway here:
Win a Year of Animated Video for Your Blog or Podcast (48 Videos Total)
Pricing
We have 3 different pricing options so businesses of all sizes can enjoy our videos:
Whale- $1399/month for 8 videos of up to 3 minutes every month.
Dolphin- $799/month for 4 videos of up to 3 minutes every month.
Minnow- $499/month for 2 videos of up to 3 minutes every month.
This is for you if:
You already have written or audio content, or you're creating enough content every month that we can create these videos from.
You have a high quality podcast or blog and you're looking to expand.
You understand the power of video.
This isn't for you if:
You don't have already existing content we can create videos from.
You're looking for a one-off explainer video.
You're looking for a 100% custom and made from scratch video. Those are going to cost you at least $500/minute. We use programs like GoAnimate, PowToon, and VideoScribe combined with a library of custom icons to create videos unique to your business.
It's time to make a decision...
Are you going to expand your business using video, or will you wait to jump in until it's too late?
You can check out the plans and get started by clicking here.
And you can enter the giveaway (until March 21st) by clicking here.