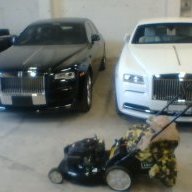 Gold Contributor
Speedway Pass
Nov 11, 2016
1,205
1,382
430
i just did 2 sales direct to client in downtown business district, wearing jeans and a tshirt. wearing a suit makes you a massive douche bag imo. or you need to beg investors for $.

poor people usually dress up to look professional, but to me they just look like slaves, its hilarious to see these people jam packed side to side on a train (or better yet a bus!) riding public transit looking all fancy.

being from vancouver ive been surrounded by wealth all the time and its always the lower class that dress up and the insanely rich that look average. just my thoughts

no thanks. i prefer looking like a fool.