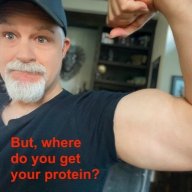 I followed the science; all I found was money.
Staff member
FASTLANE INSIDER
EPIC CONTRIBUTOR
Read Rat-Race Escape!
Read Fastlane!
Read Unscripted!
Summit Attendee
Speedway Pass
Jul 23, 2007
35,327
140,226
NOTE: This thread is NOT referencing anyone here at the forum, but the idea of it evolved from the plethora of internet gurus who now use this strategy as their "PROOF" of success.
$28,500 a year.
Not a big income right?
In Arizona, that's someone who makes $13.70 an hour working 40 hours a week all year. In Arizona, minimum wage is $10.
$28,500
is certainly not big enough of an income to consider yourself "rich" -- and certainly not big enough to
PROVE
that you're
capable
or
qualified
to give advice about wealth, money, or finance.
If you earned
$28,500
a year in the United States, you would be considered lower-middle class, near poverty, depending on your family situation.
But what if you made $35,000 a year and lived at home with your parents, had no utility bills, no student loans, and you still hung out on your parents health insurance plan?
Well
$28,500/year
is all you would need to lease a Lamborghini Huracan and advertise yourself as the internet's next 25 year old "I'm rich" guru.
Yup, that's how much it costs to lease a Lamborghini, roughly $2,400 a month.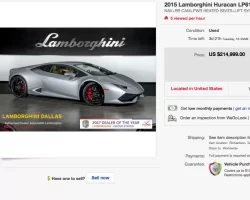 Is
$2,400/mo
the threshold to symbolize the ultimate in freedom and wealth?
Not exactly.
It's a start.
But it's not going to move any meter, unless your meter is an exotic car used as a prop to fool people into presuming you're making $240,000/mo.
I bring this up because it now seems the litmus test for guru legitimacy is to be standing in front of an exotic car, a Ferrari, Lambo, whatever. Heck, even I did this nearly 10 years ago (although I paid cash for my Lambo).
My point is: If your guru is standing in front of an exotic car,
IS PROVES NOTHING.
It doesn't prove he/she's rich. It doesn't prove he's "printing money". Heck, it doesn't even prove he/she leased it. Not a day passed in public when I had strangers taking photos in front of my Lambos, as if they owned it.
So please, next time you're evaluating a guru -- please don't look at his exotic car and presume it's a symbol of "oh wow, he's rich."
If anything, it might prove that he makes less than he's projecting.
Something to think about...
While I haven't owned an exotic in a few years, if I ever own one again I'm not sure I'm going to be taking pictures of me standing in front of it. Maybe 10 years ago, but in this day-and-age of using exotics as props, I think it might have the opposite effect. Or am I just too jaded because I'm aware of it?