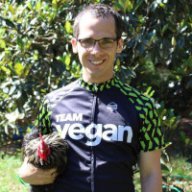 Bronze Contributor
Speedway Pass
Hey Guys,
Today, I wanted to talk about something that I haven't found a lot on and I know that it's not something fun to talk about, but I really think that it is important to do so. I recently came out of a depression that hit me really hard for a 2 months and before getting hit by it, I was really making some fantastic progress on my fitness and always reading and searching for products for my business but than, depression really hit me like a truck where I really couldn't keep up on my training, couldn't keep up with my plans, started self-medicating with video games or laying in bed and beating myself up about it, asking what's the point of life, etc.
There's that one part of me that tells me to stop being a pussy and just get over it and that I'm never going to amount to anything if I can't manage this kindergarten shit and if I can't stop being so emotional. When I question these thoughts, there's one question that comes to mind and it is: Are there any of you entrepreneurs who are earning at least 5k a month feeling these things and had trouble with depression or can you just brush it off, put your feelings aside and get back to work?
When I'm all down in darkness, I feel that I'm the only one feeling that way because what you see in books, social media or entrepreneurs talking about them is all about success, making a lot of money, huge cars, how good life is and of course, it's the stuff which is the most fun to talk about. When I can see and think more clearly though, I believe to question it and think that it's only half of the story. Like MJ says in
Unscripted
, sometimes people put themselves up to look like they want to be, not like they really are but I've rarely heard any entrepreneurship book talk about the darkness and how to keep going. Did you guys personally have an experience with darkness and still can be able to run a business? I'd really appreciate some vulnerability if some of you mind sharing your experience, tips or some resources that you have been able to use to get over it? I'm going to share some of mine because they really helped me to get over my dark times.
1. Start exercising: Put your body over the mind instead of the mind over the body. I forced myself to register for a big triathlon even though I've never done any before and told all my friends because I knew it would keep me accountable. I immediately started feeling better because even though I didn't always make progress in my business ventures, if I cut off 20 seconds out of my 10k run, that just feels great and it makes me feel a lot better in general as well.
2. Get F*cking help: Go seek out help from someone who's specialized on the subject, a therapist or if you can't afford it, just talk to it to a friend or someone online. There are websites that will have people there 24/7 to chat with you and talk like 7cups.com or betterhelp.com. You can get a therapist on both websites as well for pretty cheap.
3. Build a routine: Whether you want to meditate 15 minutes in the morning, go jog for 30 minutes at lunchtime or do yoga or whatever before going to bed, I found that it helped me a lot to train myself to do stuff even when I didn't always feel like it at the moment because I know that it helps to keep my mental health in check. Making your bed is a quick example that I found was really helpful as well.
4. Help/care about someone else: That might sound corny but when I felt alone and isolating myself, I started to force myself to go volunteer somewhere and be focused 100% on the cause at hands or it could be helping a client, friend or a family member with something. One thing that really helped me was cold approaching people in the streets and genuinely get to know them and make them feel great.
Sincerely with love,
Claude