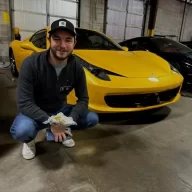 THE TRUTH IS OUT THERE
FASTLANE INSIDER
EPIC CONTRIBUTOR
Read Fastlane!
Read Unscripted!
Summit Attendee
Speedway Pass
User Power
Value/Post Ratio
623%
Oct 2, 2012
1,198
7,458
Part 1: Business is easy, internal battles are hard.​
I've been pondering about my view that business as a whole is easy, it's fighting your internal battles while building a successful company that's hard. The tasks that I do on a daily basis are mostly simple and I'm honestly just typing stuff or clicking my mouse in a certain order based on decisions that I make day in and day out. Whether it deals with taxes or selling to a fortune 500 company, or managing my team, it's a mostly simple set of processes if you have the knowledge. Getting the knowledge is pretty easy as well as all you have to do is try to do the task, see where you fail, and then try a different approach. If tasks are well out of your realm of knowledge and you don't want to do that task, you delegate to a professional and now everything is easy again. With a business you have four core things that you need to get right:
You need to offer a product or service that provides value to a customer, with some value skew that is better than competitors.
You need to spread the word about your product or service so that people can buy it.
You need good customer service/onboarding/support.
Sales to back all of this up.
That's it, that's all a business needs at its core to be successful. At the heart of these four things are a lot of nitty gritty processes that have to happen to make your product a reality. I do want to clarify and say that solving a problem, or doing R&D for a new product, may be extremely difficult. In my businesses case, our product R&D was very difficult, but most of that work was delegated to my team and I just vetted the work as it was completed (easy). Where it got hard was having the patience not to pivot, or having the patience to keep pushing through with the R&D and justifying to myself why it was necessary to keep spending more money until we got it right.
Where the journey gets hard is dealing with your internal struggles:
The business isn't making any money yet, I need to pivot immediately!
Why did that customer say that to me? I need to defend myself and show him he's wrong!
Oh shit, that wasn't supposed to happen and now our customer is pissed! Let me get super stressed about it and try to figure this out in the most painful way possible.
Why didn't I reach my revenue goal? I must be a shitty entrepreneur that isn't cut out for this.
You know what? This is taking a lot of time and work day in and day out.. Maybe I should just give up on this idea?
Day in and day out we fight internal battles over what our definition of success is, what revenues we should've hit by now, what customers we should've had by now, or some other expectation that wasn't met. When we don't meet these expectations we often feel let down, and in my opinion without good reason. Everything in business that is difficult deals with your core emotions. The tasks are easy, the emotional toll isn't.
If you can learn to control your emotions, stress levels, and patience.. you may find that your business is actually quite easy, and if it isn't easy, the process to learn how to do it is when you break it down. The ability to keep on keeping on, putting one foot in front of the other, or slogging through the desert of desertion is where it gets hard. When you're so far in the weeds and you don't even remember how you started your journey, yet you're still miles away from your
goal
.. That's when it gets hard. Everything with business is a test of mental aptitude and toughness. If we can learn to control our emotions and keep a level head, we may just find that both running our business and managing our internal struggles are easy to overcome.
Part 2: Forum participation by successful entrepreneurs​
The theory above leads me to the second thing I've been thinking about: Forum participation from the eyes of someone who has built a successful business.
Many people join this forum every day, make a big introduction and then fade away. In the past (and some today still hang around) we've had heavy hitters making huge contributions to the forum in hopes that newcomers and regulars will be able to succeed with the knowledge that is being passed on. The same questions from newbies appear over and over: How do I start a business, should I go to school, should I leave my girlfriend/boyfriend etc and I think that this inability for someone to come up with their own solutions to simple questions time and time again can frustrate the heavier hitters out there. Alright, so newbies are asking questions, they may not be the right questions, but they are asking questions and participating in the forum none the less.
So why is it that you almost never see serious questions being asked by people with businesses doing over $1m in revenue here on the forum? The answer to this problem lies in the fact that people who are capable of building a business to that revenue number are capable of solving their internal problems and problems with the business themselves. They have figured out the process of asking the right questions and solving problems themselves. Whether it's a google search, a brain dump into a google doc or spread sheet, or a phone call to a friend, these are more efficient ways of solving tough problems. I currently cannot think of a question that I could ask the forum that I couldn't solve for myself and in a lot of cases, I feel like I would get better results by asking someone I know directly. And since we know the hard part of business is emotional/internal, more likely than not, we aren't going to vent that here on the forum.
So where does that leave the heavy hitters? Well, the only thing we can do is post threads about our experiences and hope that it helps others on their journey. The questions out there that are being asked are rehashes and we don't want to answer them. When I see these questions, I just ignore them because I know that more likely than not, that person will get their answer and never come back. My time is valuable and is best spent either updating my progress thread for my own journeys documentation or writing up larger one off posts like this one vs responding to anyone directly.
Some good threads come up from time to time from heavy hitters, but they are more philosophical in nature rather than a call for help. So what is the role of the forum now for us? Once we reach a certain level of success and we no longer need the forums help, what's keeping us around? The summits are great and it's one of the things that I look forward to the most each year, but it's only once a year either through MJ or another group of guys and the connections that we make in person are extremely strong. I get my "fill" of other entrepreneurs through one on one chats with my friends that I met at these events. I don't know how to keep heavy hitters here and incite more participation other than encouraging the offload of knowledge in return for the forum or books helping you if they have.
Just a thought.
Last edited: