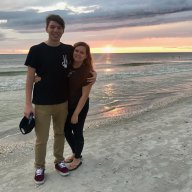 Contributor
Read Fastlane!
User Power
Value/Post Ratio
168%
Oct 9, 2017
19
32
23
Just a little background information before I go on with this post, I started reading
Unscripted
a couple days back, which is one of the main reasons this caught my attention.
I'm a senior in High School and within the first week of school, we had a Senior Meeting. We were told a lot of stuff, mostly about college and how some colleges will send "scouts" to our school to try and convince seniors to go to their school and stuff like that. I understand the concept, it's a good idea..until they came to my class.
Fast forward from the time of the senior meeting, about 2 months, and I walk into my second period Economics Honors class to find a middle-aged woman handing out flyers. What I found on the flyer was an ad for Keiser University, a college pretty local for me. Now, I feel like I would've been more interested in the start but I already have my future figured out. When she started speaking, I still wanted to give her my attention (because she's just doing her job,right?) She talked about her college and how it could be beneficial to us and such. What really caught my eye is what was on her PowerPoint. One of the slides was about how you want to get out of college and get a job
that you want to have for the next 40-50 years.
I was starstruck by this information. She was preaching the words of the
Script
and was teaching it to the young. On the next slide, false information, or what seemed to be, was plastered all over her slide. Talking about how college is a good idea for everyone, how you make more money with a college degree, e.t.c. I was concerned for my peers because I'm the only one in my class, or possibly the whole school, who has knowledge on
MJ DeMarco
and his books. In my head I thought,
Ok she's just advertising, she's just stretching the truth a bit.
But when she switched slides, that's when everything changed.
A video, accompanied with the title
College Degree v. High School Diploma
, was printed on the slide. When she started the video, I was greeted by a friendly tune with a soft voice preaching about college graduates. One of the first things the voice said was that people with a college degree have a less chance at becoming obese than people with diplomas. I shit you not, that was the first thing the voice said. I couldn't believe what I was hearing, but it gets worse. One of the next things the voice said was that people with degrees are most likely to care for and love their kids more than someone with a degree. Like WHAT? Is anyone listening to how ridiculous this is? Once the video was over, I actually had to keep my hand over my mouth because I really wanted to call her out for trying to brainwash everyone, including me.
I'm writing this as she's sitting in the front of the room, preparing for the next class that'll come in. I'm actually somewhat angry at her for doing this. But on the other hand,
it's her fault that she lives an average life in the scripted world.