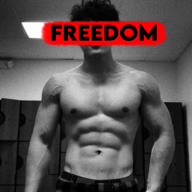 Bronze Contributor
Speedway Pass
I think a big problem among posters here and even myself at times is self-doubt.

Self-doubt is the same as self-sabotage in my book so I do not listen to it. I lay out everything in plain sight so I don't listen to it. It is the enemy. Self-sabotage is something I hate with all my heart so when it comes up and I am filled with nothing but hatred and vengeance. I know I'm being dramatic, but I seriously hate this shit.

Despite all of this, I admit sometimes I subconsciously question myself especially when I'm having a shitty day due to not sleeping enough or something I can't control.

It's similar to what MJ talks about in the desert of the dissertation.

I have an answer to this question personally as I write this post and even so I think it'd be a pretty fun discussion to have and younger folks will find massive value. Plus it'd be pretty cool to pick your brains and thought process.

My thought is, I even write this out on 1 of my 2 whiteboards so I am reminded every morning: to choose to endure and keep on going because this is where real changes happen. All momentum will break if you stop. Nothing is worse than giving up and starting 10 different things when you can carry one venture out to the end. You are always losing time if you choose to not commit. Tough times is when competitions start to fall off and it's a great filter for those that have a commitment vs a whim of motivation. Consistency brings forth geniuses and giving up creates nothing but a dented ego and low self-esteem.

My question to you:

When you started off your entrepreneurial journey what were the things you told yourself, think of, and dreamed of? When you were starting your first few ventures and nothing was showing for your effort, what went on inside of your mind? Were you always a person who had unquestionable resolve and faith in yourself or did you build it along the way?

But what do you, especially the hard hitters, do when you feel it? Do you feel it at all even after gaining so many reference experiences?

What's your mental dialogue when self-doubt comes up? What experience shaped these mental dialogues?