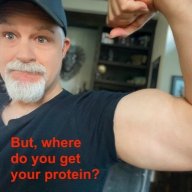 I followed the science; all I found was money.
Staff member
FASTLANE INSIDER
EPIC CONTRIBUTOR
Read Rat-Race Escape!
Read Fastlane!
Read Unscripted!
Summit Attendee
Speedway Pass
User Power
Value/Post Ratio
441%
Jul 23, 2007
37,458
165,234
I wasn't sure how to address this but decided transparency and honesty would be the best approach.
With that said, it is with great disappointment (and some frustration) that I must officially announce that the upcoming 2019 Fastlane Summit has been canceled.
Yes, canceled.

I realize this will upset many (as it upsets me that I have to do it considering last year's event ROCKED) but here is the reality as see it.
As you may know, the event was also canceled in 2017 due to some health challenges I was having. However this year's cancellation has nothing to do with my health, but due to a combination of reasons, all of which paint a bigger picture.
First, in
THIS THREAD
, I made a preliminary call out (probe) for potential speakers. In the past, the event has always featured
forum regulars
who were gracious enough to offer their time and expertise. Having a nice pool of speakers to choose from was never a problem. For those who responded in that thread to speak, I thank you for your generosity in offering your wisdom.
In this thread, a total of
16
people offered to potentially speak (as of last Friday, several volunteered others to speak but that does not count.) Now when someone offers to speak, usually you can count on slightly
LESS THAN HALF
to actually do so -- this is because of a person's schedule, their financial situation (flights, hotels, etc.) and various other reasons. This means as of now using this conservative formula, 7-8 people would speak.
Last year, 16 speakers spoke.
I figured this number would change when the weekly forum mass email headlined this announcement. To my shock, it didn't. This means in order for me to get to 16, I would need to go "off forum" and seek (plead / instigate / compel) speakers who aren't regular forum visitors or contributors.
Second, holding this event is a HUGE financial risk for my company because it has always been an event that was NOT designed for
PROFIT
, but for
COMMUNITY
.
Ticket prices have been purposely kept low for this reason. Additionally, when you compare this event to other similar events, the average price is usually more than triple -- and those events don't even bother to feed you. Additionally, the hotel makes me sign a guarantee for rooms and food -- and if they don't sell -- I'm on the hook for 100+ nights plus the guarantee. This amount is nearly
$50,000
that I have to sign my name to. This risk increases as the local attendance increases (they don't book rooms).
While last year's event came out marginally in the green, it was a type of "bet" that I would NEVER make in the financial markets, in business, or otherwise. But I find myself doing it here. In order for me to accept the risk, the ticket prices would need to skyrocket, or significant services (food) would need to be cut.
Third, if the event isn't beneficial financially or from a risk standpoint, surely it must be good for the community right? I mean, that's the main reason I was doing it right?!
Unfortunately history (in recent years since the FB era) shows that the direct forum benefit for the event has been marginal and not sustainable -- limited to about 60 days, about 45 days during and after the event, and maybe 15 days around ticket sales. And then things return to a baseline whereas many attendees stop contributing, or worse, stop visiting, only to return next November when the Summit discussion returns.
To verify this, I actually looked at the user attendance history of the last 2 years of meetings and was woefully shocked to discover that a majority of attendees do not contribute content to the forum. And by content, I mean a periodic post every few weeks, not something daily.
While I don't deny that the incredible energy, camaraderie, and singularity of purpose of the event is awesomely breath-taking, it appears that this "energy" doesn't stay on the forum, but goes elsewhere into personal networks, Facebook groups, Discord, etc. It's disheartening for me to see the FB group that represents this event is actually more engaged than forum it represents. In the past, I even created a separate forum for attendees to gab and post in order to sustain the energy, but the result was the same.
While user registrations are higher as are active users at the forum,
deep communal engagement
is not at a level where I feel comfortable holding this event. This may also explains why the response to speak was somewhat lackluster.
Fourth, I have a lot of irons in the fire, from writing 2 more books (
Unscripted
Book 2 and 3) to other business dealings, to starting the process on building a custom home in Sedona. And lets not forget, being an active, daily contributor to this forum to help other people live the dream that is made possible through
Unscripted
Entrepreneurship.
All of these concerns become more evident when I recently read Essentialism, a book which is a treatise into learning how to say
NO!
to things that aren't benefiting your personal mission and the things most important to you.
As many know, I have zero interest in being a guru, public speaking, or having seminars. While I appreciate meeting readers face to face, socializing with cigars and liquor, and hearing accolades and kudos about my writing, as an introvert and someone who enjoys deep solitude, the event is very stressful for me.
Reading Essentialism forced me to face the truth in the matter --
I don't do this event for me -- I do it for the community
-- additionally, it is extremely nerve-wracking, it is not a profit maker (giving me a decent return on my time to compensate for stress/risk) and most important, it doesn't appear to be helping the
community
long-term.
At last year's event I thought things would change when Chris W (Lighthouse) made a plea to all attendees to start a progress thread and update as the weeks and months went by. I also tried to reiterate the importance of the forum as it related to the event.
To be specific,
the EVENT exists because of the FORUM, the FORUM does NOT exist because of the EVENT.
Think about that dichotomy.
The event happens because of the forum and it's standing as a community, not the reverse.
So this year's event, I'm sorry to say, will not happen.
However, is this the END of the event?
No more parties at Talking Stick Resort?
I hope that isn't the case.
I hope this is a ONE year kink in the road and next year, I will look at the forum and its engagement and say, "We NEED to have an event!" Again, my main priority for this event since leading its charge was foremost COMMUNITY -- that headlines over profit, stress, and risk. Next year it would be nice to look at the forum and say, "Damn, I WANT to do this, and we NEED to do this!" I would welcome to be forced into a re-evaluation.
Ultimately I would love to blow it out and have 200, or even 300 people. I don't think hitting those numbers would be a problem but this kind of ambition (much less 120 like last year) has to
ORIGINATE
and be grass-rooted at the forum, not elsewhere.
So if the forum and its message (and the event) is important to you, I would hope that you continue to make the forum a small piece of your life.
If this is your first time back in months and you're reading this, I will just say thank you for visiting and hope you understand the decision.
Over ten years ago I started this forum to foster a message of freedom through entrepreneurship. The forum has gone through a variety of peaks and valleys, but still retains its fundamental purpose which is derived from
my purpose
to inspire people to live their best through business ownership.
If you believe in that message, I will kindly request what I request every year…
visit the forum and contribute!
Say hello. Tell us what you're doing. Tell us what you learned, what you've failed, and what you've succeeded.
And to everyone who has done so and continues to do so, I thank you from the bottom of my heart …. thank you so much for sharing your journey.