Whatever it takes
Read Millionaire Fastlane
I've Read UNSCRIPTED
Summit Attendee
Speedway Pass
Feb 9, 2016
562
1,709
495
30
An interesting share for those of you interesting SASS - however this applies to all businesses. As some of you may know, I have had relatively good success selling my software in person. It's how I grew from $0 to $565,000 in sales. Where I am finding my footing now is automating online sales of my intranet software.

I am starting to understand how formulas and experimentation has helped me grow my business, and how it will help you too.

Want to know the secret about most business decisions from someone who spent millions and millions on ads in a corporation?

Nobody REALLY knows what works and what doesn't. We just get better at making educated guesses.

When I was 22, I took over national marketing for a large business. I was completely unqualified but I didn't care. I knew that any business decision was just about having a theory, trying it, understanding the data, and making decisions. The most SUCCESSFUL businesses in the world are usually the ones who experiment on small scales, collect the data, understand it, and then build growth models.

How This Works In Practice

When I first started my business I had zero sales online and I thought "well maybe my product sucks?". Do I need to create a new site? Do I need more visitors? What's working and what's not?

I AM SO CONFUSED.

But then I distanced myself and thought - let's create the formula.



My Formula Is Roughly:

( ( ( Visitors

X

Funnel To Sign Up Page ) X Sign Up Rate)

X

( Free-To-Paid-Rate ) )

X

Paid Subscription Rate = Sales

This all seems super obvious - but just writing it down and putting it in excel helps you on so many levels.

Here's mine explained:

1) Throughout a given period "X" number of users come to my site. This is one variable I can control and experiment with.
2) Only a certain percent will ever even get to the "Sign Up" page. I have reasonable control over this.
3) Of those who even look at your signup form, oddly some get intimidated and leave. I can reasonably control this.
4) Of those who join free trials, X percent convert to paid.
5) Those who move to paid will pay $x. I certainly have control over this and experimenting with price levels.



Now, I'm not looking at a mess of problems - I'm looking at variables I can control. Here it is with the numbers plugged in.

( ( (

12,500 visitors

X

6% Get to signup page

) X

34% signup rate

)

X

(

5% To Paid

) )

X

$1550/year

=

$19,762/year
A good example of small changes to variables meaning BIG changes to revenue
In the previous period I was converting
10% on sign up page.
The question:
WHY are such a small amount of people not filling out our sign up form?
I learned something new - for every extra field you have in your sign up, your conversion rate drops. I was able to go from 7 sign up fields to 3 and go from
10%
to
34%.
From the same 12,500 visitors I go from earning
$5,812.50
to earning
$19,762.50.

Can you imagine that?
We had an extra field for people to confirm their password, choose usernames, add in their first and last name, company type.
By dropping this information that really wasn't needed I was able to grow my sales.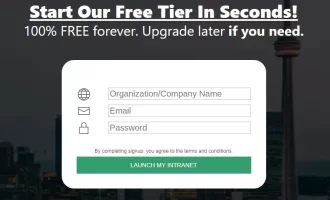 An INVERSE example
- we want to increase our free to paid users which is at 5%. I have a theory that if we can learn the customer's industry we can pre-load content to their portal when they first sign in and make it seem more relevant. HOWEVER it MAY decrease my sign up variable by asking for additional information. Am I willing to increase my free-to-paid variable if it decreases my sign up rate? Here's an example of how that could play out -
pay attention to finish signup and covert to paid.
Worth the risk of messing around with signup? Not sure but I can at least make an educated guess.
In fact, I even experimented with my price/year variable.
I began advertising prices in USD instead of CAD. Allowing my $99/month to be $129/month CAD. Nobody cared and just saw $99 as $99. I saw a 30% increase in revenue JUST from this.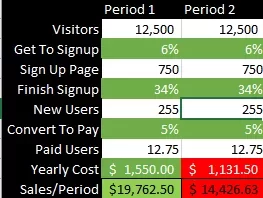 The Disclaimer
Yes, I am overly simplifying things for the purpose of demonstrating.
Your variables will fluctuate especially as you grow.
But this gives you an idea of HOW understanding your formula is the stepping stone for great decisions.
Don't like ads? Remove them while supporting the forum. Subscribe.
Last edited: