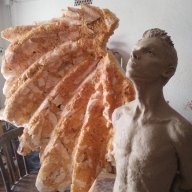 Bronze Contributor
Read Unscripted!
Speedway Pass
Edit:Thanks to the moderators for helping me move this thread to the right section!
OK, so as some might know, I'm starting a Youtube Channel about fantasy sculpture.
I'll be sculpting dragons and other mythological beasts, and I aim to monetize it inthree ways: a Patreon, selling these sculptures as resin kits, and selling sculpture video courses.
I bought TubeBuddy and, I've been trying different combinations of keywords, some of them ranking good or very good.
Combinations like "how to sculpt a dragon in polymer clay", "centaur sculpture tutorial", and such.
But where I've found
a hundred of very good rating keywords and about 40 excellent ones
, is with actual names of mythological beings or weird animals, all of them simple names, not "how to xxx xx xx" questions. Also I've found some good-ranking names of beautiful but little-known models and actresses, which I'm a huge fan of and from which I could make portraits of.
So they are all characters I could sculpt, but I have lots of doubts on how to implement everything. I've tried to condensate them here.
@Fox
, if you could take a look at them I'd be incredibly grateful!!!
Here are my questions:
1. Let's take two excellent-rated mythological beings, "Salamander" that has 3M monthly searches and 500k results, and "Manticore" that thas 50k searches and 400 results.
Which would be the best to tackle first? First one because of the search volume, or second because of the higher search volume to results ratio?
2. If sculpting let's say, an Egyptian god, would it be wise to put good-ranking names of Norse gods in the tags? Or it would be too different from the video content and people wouldn't like it?
Or is it better to put "salamander" (the high ranking one) and the others to be "salamander tutorial", "salamander sculpt", etc, even if they just rank "good" or "fair"?
3. Is it a good idea to use the highest-ranking keyword I've found as my brand name? Like, "Salamander Sculptures" if that was the case? Or I should try to develop my own brand name?
4. If "Salamander sculpting tutorial" ranks bad, but "Salamander" ranks very good, is it better to put just "Salamander" as a title for my sculpting video? or will it mislead non-sculpture-interested people and affect me negatively?
5. Is always better to use short tags so that you can fit more of them in the tag window?
My main issue is that all the tags are related in a way (all of them are mythological beings) but not so related as to be in the same video, and I don't know how to proceed from here.
By the way here's my first video! I'm quite proud of it but I'm planning on making the next one much more dynamic, with camera changes, me talking, etc.
View: https://www.youtube.com/watch?v=O3zFx8KHOEk
Last edited: