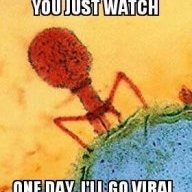 Contributor
Read Fastlane!
Read Unscripted!
Hi all,
so I read TMF and almost finished Unscripted (Audiobook), but I need a bit of advice on how to get started.
First of all, a short intro: I'm a 28-year old trained PhD-level scientist in biomedical research, currently on a Postdoc contract, in Germany.
While I love what I do and hope that it will someday contribute value, I'm extremely frustrated by my future perspectives. I want to keep doing research and contributing using my highly trained skill set... I really don't want to throw that away, and also, it's so much fun! Some stats @future:
Good: only 20% of all PhDs in bio stay in academia.
Bad: only 5% of all PhDs go on to get a fixed position.
A fixed position in academia is really the only scripted(!) way to do what I love doing, while not being on a short-term contract. (Pharma research: more limitations, less freedom, plus pantsuits
).
While I do mind the competition, that won't keep me from trying.
My real issue is: even if I win, there's no way I can get to financial freedom on a group leader/professor salary. And for me, financial freedom is a MUST!

So now I'm torn: I want to keep on doing biomedical research, and not throw that skill set away, but I also don't wanna be stuck in the slowlane forever (and it's not even sure I'd make it there)!!!
For those interested in more context, HERE
Introduction - Scientist tired of trading time for money
is my intro thread.
Also, why I want to keep doing research and love it so much:
It's not your regular slowlane job.
There's a need, and so our reserach area gets funded well and I'm contributing something valuable to society. Something not everyone can do at this level, as:
There's a high entry barrier, see doctors, lawyers, etc. I feel like if I'm privileged enough to have the education to contribute something at this "high" (barrier-wise) of a level, it's an ethical mandate.
I have lots of autonomy on how I work, on the daily, weekly and monthly scale. However, this doesn't quite qualify for control.
This leads me to the drawbacks:
I don't have control over my external circumstances. I'm dependent on my bosses' funding right now, government funding policies, awards, grants, fellowships... and what I may actually do science-wise is still regulated quite a bit and constricted to the project I work on. However, that would also be the case in my entrepreneurial project, right? So mainly the money part. Also, I have very low control of whether I'll be able to secure a fixed position. But even if I do, there's...
...the problem of scale. Best case, I can make it to institute head someday. But the odds are horrible. And even then, your income is limited.
Moreover, right now leading right up to that coveted fixed position, you are ALWAYS trading time for money, directly. Even our institute head has to work horrible hours to get ahead, all the time. I don't mind working hard - I mind having to do it, or perishing.
Now, my questions:
Can you/have any of you started their business on the side while still working your job? I don't want to cancel my contract for now, the project I'm on is super exciting and may help create a gender-specific treatment. Also, canceling would make me look pretty bad if I want to/have to stay in academia. MJ talks about full commitment though... Monogamy... Is there away to have both?
Does anyone have experience with the German regulations on "side hustling"? As far as I understand it, my contract makes it mandatory to alert your boss if you earn money on the side. There are more regulations and they scare me. I need to get that shit outta the way before I start because I can feel it subconsciously holding me back and stopping me from executing, since my brain isn't fully convinced it will work and is scared I'll die in prison.
Do you guys and gals have any idea for a valuable entrepreneurial project that I can start without throwing my PhD-level science skills away? I'd love to make it something sciency, but don't know what to do/how to do that without funding and I'd like to avoid external funding, at least at first. Biomedical research itself is super expensive though - my cell culture costs alone run in the 4 figures category, per week. So maybe something science-associated? Something that would help scientists?
Sorry for the long post... any help and ideas/feedback are appreciated.