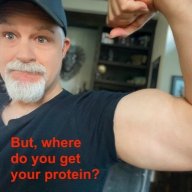 I followed the science; all I found was money.
Staff member
FASTLANE INSIDER
EPIC CONTRIBUTOR
Read Rat-Race Escape!
Read Fastlane!
Read Unscripted!
Summit Attendee
Speedway Pass
Jul 23, 2007
34,944
137,988
Reviewed and approved by myself for
Unscripted
relevance!
Discusses a lot of
Unscripted
concepts, from problem solving, to process, to grinding through tough troubles (follow your passion is no where to be found!) to the strong need to be right, versus finding the truth.