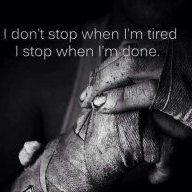 User Power
Value/Post Ratio
100%
Nov 18, 2014
4
4
26
Holy shit Jack, different circumstance but damn that hit home (combined with a few other things today)

Before I read this I was literally sitting here thinking, I've got nothing to lose and I...I just have to fight, I don't care how hard it is, I don't care what it takes. I don't care if it fails a thousand times i'll succeed or I will keep going. I need to give me and my people a life, not this sidewalk/slowlane idiotic bullshit. Not one of them thinks I can do it, but I don't even care anymore, I know what I need to do, I know how to do it, ive just been moaning about having no capital or other bullshit excuses. I don't care about the cost. 5 years from now I will have it. Period.

Screw it its time, Go hard or go home right, it's gonna be a long process but I don't care, until I have the life I want i'm not done.
This is how I imagine MJ was thinking on that freezing chicago day.