Sweeping Shadows from Dreams
EPIC CONTRIBUTOR
FASTLANE INSIDER
Read Millionaire Fastlane
I've Read UNSCRIPTED
Speedway Pass
Jan 14, 2013
3,707
23,069
4,306
If you'd asked three years ago about grad school I would've laughed in your face. I hadn't even finished the undergrad degree I started in 2007, one of the longest, most agonizing experiences of my life. I'd hopped from one major to another and from school to school searching for the right program. All of those switches caused years of setbacks and added costs. Luckily, I served in the military and Post 9-11 GI Bill covered it all (almost). Unfortunately, I ran out of GI Bill with a few classes remaining, and because I didn't value degrees (reinforced by success in freelancing) and didn't want to pay out of pocket, I dropped out in 2016 vowing never to go to college again.
But two years later (2018) I logged into the old online classroom to see if I still had access. Turns out I did, so I checked the degree progress report which showed a GPA in the mid 2.5 range and four classes remaining to graduate. I was nine months into being a first time dad, and nearly nine years into entrepreneurship and as I looked at that progress I couldn't help but think,
four classes left? WTF why didn't you just finish it?!
I don't know if it was the potential for credibility or maybe that I want my daughter to grow up with an educated dad, but I decided to break my vow, pay out of pocket, and finish what I started. I also committed to doing the best I could to raise my GPA. All of this while managing my business systems and operating as a full-time stay at home dad.
In early 2019 I graduated with a B.A. in Psychology, officially surpassing both of my parents in education. I'd also managed to raise my GPA to a 3.1. It took weeks for the diploma to arrive in the mail, and to be honest, I didn't think I'd care. But when it showed up and I had it in hand, something switched in my mind. This was one of the most rewarding experiences in the world. A kid who'd barely passed high school and spent 10 years working on a degree that most people earn in four, was finally a college graduate.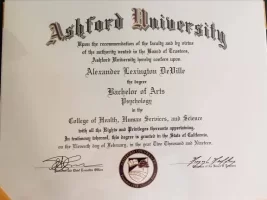 Shortly after receiving the diploma I started to imagine what it would be like to go beyond. I joked about it with my wife, "What if I became a Doctor? You'd have to call me Dr. DeVille!" And at first it was only a joke. But then that joke turned into a thought seed. The more I joked, the more curious I became. Soon the thought seed started to grow. I looked into what it would take to become a Doctor of Psychology and realized it would be a lot of work, likely 10 times harder than undergraduate, and would require another six to ten years of school.
The time frame was daunting, but that little curiosity seed wouldn't let go, and within a month I made the decision to enroll again, this time into a Masters program for psychology which would be paid for out of pocket. The degree would come from the same school I'd already graduated from and would prep me for doctoral training, plus, even if I decided not to go through with a PhD program, I'd still come away with a Master's. Unlike the undergrad degree, this time I made a new commitment. Not only would I finish the degree in the shortest time possible without breaks, but I'd also work to maintain a 4.0 GPA and be the top student in every class.
So far I've finished 4 of the 12 Master's classes, maintaining a 4.0 GPA, and was invited to two honor's societies. I'm currently on track to graduate in February of 2021.
So I thought I'd document the progress from this point forward since I've recently read posts by people who felt that doing school plus running a business is impossible. To those people...
it is not
.
From this point forward is my Journey to become a Doctor of Psychology.
Current Obstacles
1. The program I want to enter requires completion of a Master's degree.
2. The nearest APA accredited Doctoral programs are 1.5 hours away.
3. Clinical and other APA accredited programs are highly competitive.
4. Need to complete the GRE which was waived for my current school.
5. Need letters of recommendation.
6. Need to maintain a high GPA.
7. Need to get better at statistics.
8. Need to improve my technical writing skills.
9. Need to clean up online presence.
10. Need to join honor societies.
11. Need to do all of this while managing my business and being a dad.
On a bright note, when I finally get accepted into one of the nearby programs, the degree will mostly be funded by the school. I may not have to pay anything out of pocket for that. But no matter what happens, I will have that degree.
For now I'm focused on the first goal, the Master's degree. This week I'll also start to study for the GRE. The plan is to take the GRE early to see where I stand, and then to take it again in six months after studying to improve the scores as needed to be competitive for surrounding programs.
So that's it for now. Don't know how often I'll update, but you're welcome to follow along if you want.
Last edited: