In
other thread
,
@Lyinx
asked about pricing. This made me think about the topic and remained me of an interesting video (and actually a book). It's packed with insights and tested techniques to tackle the hot questions:
How do you know you will monetise?
and
How to price your product?
The talk is by Madhavan Ramanujam, a board member and partner at Simon-Kucher & Partners, a Silicon Valley based pricing strategy consulting firm. My notes and comments are below.
View: https://www.youtube.com/watch?v=UyX8GbYuDAs
In 2014, Simon-Kutcher & Partners launched a pricing study with more than 1,600 companies across 40 countries. About 40% of respondents were CEOs.
80% of respondents said they were in some sort of price pressure
60% said they were in a price war
90% said the others started the war
Innovation was voted the number one strategy to solve the problem
But... 72% of past innovations did not meet the revenue or profit target, or failed completely
How did the companies fail to monetise innovation? Only in 4 ways:
Feature shock: product over-engineered, over-featured, with unwanted features
Minivation: the right product for the right market but under-priced and under-monetised (a bitter success if you know you could have done better)
Hidden gem: product that should have been developed but wasn't (e.g. Kodak and digital technology, fear of cannibalisation of own business)
Undead: product that shouldn't have been developed or kept alive (either a wrong answer to the right question or an answer to a question no one is asking)
What are the success criteria for monetising innovation? What do successful companies do differently?
Think Price before Product
CEO / C-level involvement = 35% higher chances of success across all kinds of KPIs and metrics
#1 is what's often repeated here one way or another and where the magic happens. The price is a measure of how much people want/need/value your product. If you focus on the need (indicated by willingness to pay), you naturally start with the price (derived from the benefit/value)... and the product is just a derivative. Analysis of willingness to pay puts calibrated constraints on both the benefit that your solution should deliver and your overall cost to do so. If you start with a product/idea, you end up scratching your head thinking what price tag to slap on it.
#2 may seem given on a smaller scale and in the context of TFLF entrepreneurs, but it highlights very important qualities that make things happen: having a helicopter view, not focusing on a single aspect, bringing all elements together, integrating all efforts and metrics, taking responsibility, driving the change, thinking big and far.
The answer to knowing vs. hoping to monetise
9 steps framework for monetising innovations
Have the willingness to pay (WTP) talk early
Segment: One size fits all doesn't work
The core: Product configuration and bundling
Monetisation model: How you charge trumps what you charge
Pick the winning pricing strategy: Only 3 options
Outside-in business case: that includes WTP
Value communication: The product will not sell itself
Use behavioural pricing & tap into Psychology
Maintain your price integrity
In the video, Madhavan talks only about #1, #2 and #4, but all the other ones are covered in his book,
Monetizing Innovation: How Smart Companies Design the Product Around the Price
.
Having the Willingness to Pay Talk Early... in $
"Do you like this feature?" vs. "Do you like it at $20?"
If you didn't put pricing in your early product-market fit questions, you're probably hearing what you want to hear.
It's easier to talk about money earlier than later. Why? Because customers are not in the negotiation mindset. It's your opportunity to receive unfiltered, uncensored feedback and prioritise what you're building accordingly.
How to have a WTP talk?
Just do it
. Just talk about the price point. Like "If I had this product with these features at $50, would you pay for it?". Put a price point and see what people say. If they say it's a no-brainer, then ask them "if it was $100, would you still pay for it?". If they say "no, that's too much", ask them why not. This is where the WTP talk shines. What you hear will help you make your product better because you'll start hearing what they value.
Ask smart value questions
. Break it down. Show a concept or a product and ask "what do you think is the acceptable price for this?". They'll give you a low-ball answer. That's ok. Then ask them "what's an expensive price for it?". Get an answer and follow that through with "what's a prohibitively expensive price for this?". You'll get 3 price points. If you do it with enough people, a pattern will emerge. You'll be able to plot a percentage of people that find a certain price acceptable, expensive and prohibitively expensive. You'll spot psychological thresholds and will be able to choose a sweet spot for your price (see how it aligns with
@MidwestLandlord
's thread
The Basics Of Pricing
).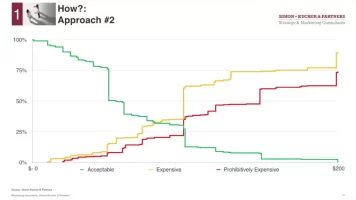 Force trade-offs aka "what would you choose?"
Put your potential customers in situations where they need to make a choice based on presented options. This is indirectly asking the pricing questions without focusing on it. "Which plan would you choose?", "If you were in this situation, what would you actually do?", "Would you take any of these products or would you not?", "If we changed X, what would you do?". This is akin to real life simulations, as in this is what your customer goes through when they land on your website. This is tapping into mental models and rules that people are using to make their decisions.
Segmentation: One size fits none
Think about the water that you drink. If it's in a fountain, it's free. You put it in a bottle, it's $2. Put gas in it, it's $2.50. Put it in a minibar, it's $5. It's just water. Commodity? But there's no single market that's homogeneous. Customers are heterogeneous. They have different needs, different values and different willingness to pay.
Don't do segmentation based on demographics. Segmentation should break the market down into a few different groups on which you can act differently.
Segmentation in action, packaging and bundling: all customers vs. different segments (e.g. 30% want the best, 40% want it now, 10% want product only, 20% are price sensitive). If you don't pay attention, you're end up building the product for the average and getting it wrong for the entire market.
The key to unlocking segmentation is packaging and bundling, and providing your customers with products that meet their needs, their value and their willingness to pay.
How you charge is way more important than how much!
When Michelin released they tires, they came up with an innovation that lasts 20% longer. If they had gone and asked the market if they wanted 20% price increase, they would have never gotten that. Instead, they based the price on a per-kilometre basis for truck drivers moving things from point A to point B. They offered to charge trucking fleets by the mileage they drove Michelin tires, not by the numbers of tires they bought. This was amenable and Michelin were able to extract 20% because the tires lasted more.
How to find out which pricing model appeals to your customers?
Put your customers through break-even situations and ask them "what would you choose or would you be indifferent?"
People have inherent preferences for how they should be charged. Test different models, even if they lead to the same price point. For example, when given a choice of a fee structure for a $10 product, most people prefer $0.50 flat fee over a 5% one... although they're basically the same. For a $200 product, a percentage looks more appealing and more people choose (3.5% + $3) fee over a $10 fee.
A number of monetisation models are in use: subscription, dynamic pricing, freemium etc. Dig deeper and choose one that works for your customers.
Don't like ads? Remove them while supporting the forum. Subscribe.