Dad, Husband, Inbound Marketeer
Staff member
EPIC CONTRIBUTOR
FASTLANE INSIDER
Read Millionaire Fastlane
Speedway Pass
May 20, 2014
11,650
46,661
4,306
Good manners is smart business
An AdWords client churned out a few weeks ago. I noticed they hadn't paid their final invoice so resent it last night. They paid immediately this morning and here's my reply.
This isn't just good manners, it's smart business. Not because I'm gunning for more business from them, but because I genuinely care about helping people grow their business, and this makes me referrable.
Who would you refer on? Someone highly proficient technically but doesn't show up on time or is rude? Or someone with manners and who actually cares?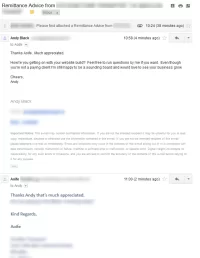 Don't like ads? Remove them while supporting the forum. Subscribe.