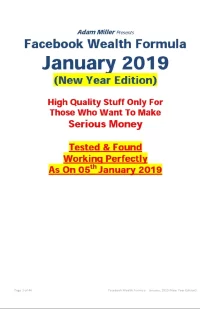 Hello all. I want to introduce u to a new business. Facebook ads. I know u've heard a lot about it but believe me, this one is different. It was written by this guy called "Adam C. Miller" I found this ebook since 2016 and he keeps updating new versions every year. This book tells u, u can make 100-500 dollars a day.
I know what you're thinking. U problably think since I have this book I'm rich. No, here's why: To implement the strategies in this book you need a laptop. All these years I didn't have a laptop, now I have a laptop. But here's another problem: The website in which I am supposed to receive my payments (clickbank) doesn't have any other form of payment like PayPal. It pays only through cheques and my country is not in the list when I sign up.
If u want this ebook, tell me in the comment section so I can send it to u. I would be really excited if i see someone in this group making 100 dollars + daily. Thanks
Don't like ads? Remove them while supporting the forum. Subscribe.