Hello friends !
Today is a big day for me, I finalized my first version of my Google Chrome extension.
This is an extension to improve concentration and boost productivity.
If you want to take a look:
focusLab
And a more detailed presentation :
A complete solution to maximize your productivity without stressing you out.
focusLab boosts daily productivity thanks to a complete productivity eco-system: site blocking, planning, task management, breathing relaxation, soundscape, personalization.
Switch to productivity 2.0 now with focusLab.
Block time-consuming sites :
focusLab allows us to block sites that waste our time with just one click. Once added to the list, the site can no longer be reached as long as the service is activated.
️ Service Planning
:
The service can be activated and deactivated with one click. However, if you wish to program the service according to your activity schedules, it is also possible for every day of the week at every possible hour.
Sound Background :
Create your own zen bubble with the background sound: birds, beach, crickets, city, storm, rain... Mix as your heart tells you, relax.
To Do List
:
Organization is the most important element for optimal productivity. With the to-do list, keep up to date with current priority projects and tasks and don't forget anything.

Heart Coherence :
Fancy a break? Cardiac coherence allows you to relax in five minutes using your breathing and reduce stress and anxiety naturally. Ideal for taking a break and resuming activities with a relaxed mind.
Personalization :
focusLab is entirely adapted to your needs and work rhythms. The "Night" theme will help you work in peace, the theme is adapted to the system and will change according to it by default. Choose the default unlock mode: password or puzzle.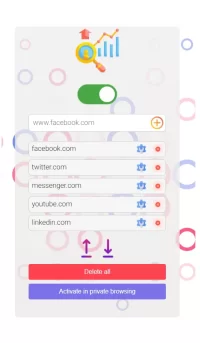 Don't hesitate to tell me what you think!