Gold Contributor
FASTLANE INSIDER
Summit Attendee
Speedway Pass
May 4, 2009
1,376
1,862
581
Spent a few hours today to study the Bitcoin market and came up with this analysis of the two likely paths I am watching closely for entry into another swing trade.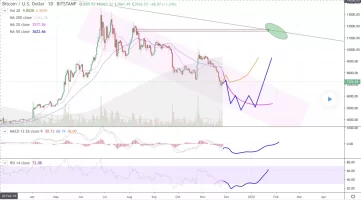 - - - pasted from my TradingView - - -
There's two routes I think
Bitcoin
has a strong chance it will take. Blue Line and Orange Line. Both of which eventually reach $8,800 or higher by mid January, but with a prime opportunity and spot (green circle area at the top
trend line
) to fill the
CME
$11.7k gap; I am hoping we touch that price instead by mid-January.
The two paths depend heavily on if we make it back above the weekly 50 MA or not this week. I lean heavily towards the Blue Line being most likely to happen which is that it will fail, dump down, create a shoulder, create a head (local bottom possibly on weekly 200 MA), and a last shoulder (this all in December) that should ultimately take this
inverse head and shoulders
pattern sideways out of the
descending channel
and exiting out the right (sometime in the first or second week of January). I don't think we are in a descending
wedge
(meaning the bottom is actually much lower than people anticipate but much higher than the super bears), and I believe we don't "shoot" out of this channel, but rather hit the bottom
trend line
of it again, then kind of scoot along sideways until we're out of it.
Here are some other factors I'm looking at:
- End of year. Annual wash trade to get those capital gains taxes in check. Which btw; the US has no tax wash laws for crypto currently. I don't forsee any rallys coming in December except a bottom and then a range before a following rally that will occur in early 2020. An
inverse head and shoulders
play would be perfect here in December, and it would also be a reverse pattern strong and convincing enough to warrant a rally to $11.7k starting possibly in January. I am not certain if we find an "absolute bottom" for this entire
Bitcoin
thing, but I do think we find a local bottom sometime in December that would be a good entry to a possibly relief rally.
-
CME
gap at $11.7k. Gaps don't have to be filled any time; it could be weeks, months, even years. However, I'm thinking
CME
is aiming for sooner rather than later. The top
trend line
drawn from the peaks of the two big rallys puts the price $11,700k in that January month. I think this would be a good spot where it would meet and touch the price and then get knocked back down from the top
trend line
resistance.
- Retail trader's sentiment is about 50/50 right now. The big overall trend is Down however, and it is likely the big ocean current will continue winning for the mid-term.
- The future Halving
imo
should not be too heavily weighted as I believe
Bitcoin
since the last halving include much bigger, financially experienced whales that not only have the
ability
to short (and capital and time), but to be able to Price In events before they are even in the picture view yet. It might be a possibly that the last rally with the $13k top was indeed the Pricing In.
- CNBC has unleashed a flury of negative
bearish
tweets including bad news of big drops, and a short article posted appearing on the front main website page. CNBC coupled with FUD from China's crypto bans. However, Usually with public "bad" news - it will create a short term opposite move (in this case a short bounce) but then return back to actually being bear'ish just like CNBC is presenting. However, it usually also means that there is a local bottom not too distant with only one or two more legs down in the sell off.
It's probably more stuff I looked into and analyzed and can't think of. Kind of short on time, but hopefully this gives you an another perspective or angle towards your own predictions. Anyways... Good luck.
Don't like ads? Remove them while supporting the forum. Subscribe.