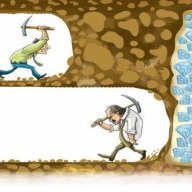 Never give up
FASTLANE INSIDER
EPIC CONTRIBUTOR
Read Fastlane!
Read Unscripted!
Speedway Pass
After physiological needs, the most essential need of every human being is security and safety. You can't thrive as an entrepreneur if you constantly fear for your life the way people living in a war-torn country do.
However, if you're reading this, all of your basic needs are most likely well-taken care of. Fortunately, nowadays relatively few people (compared to history) lack safety and security which means that whenever you experience discomfort, it's likely the kind that will help you grow instead of putting your life at risk.
Which brings me to the point of this thread....
But first, the promised exercise which I guarantee will help you become a better entrepreneur and a better person, too.
Head to the bathroom. Get undressed (this isn't anything perverse, I promise). Turn on the cold water. Step into the shower and stand there for at least a minute (if you need some motivation,
here are some benefits of cold showers
).
If your initial reaction is to immediately turn the water to hot and say "screw it, that's bullshit, it's too uncomfortable"...
YOU'RE WEAK.

(Obviously do it only if you're healthy. Shocking your body this way isn't safe if you suffer from heart-related disorders or any similar problems.)
And no, you aren't weak just because you don't like cold water. You're weak because I can safely assume that
if you immediately seek the comfort of hot water and don't even try to endure willingly imposed discomfort just to test your strength, you probably make bad decisions in your business and personal life
.
In the modern scripted society, the message we're being told is that you
deserve
comfort. You
deserve
to be protected from any kind of hardship. Ideally, you should
never
experience anything that will challenge you because it will crush your little fragile ego. You're considered crazy if you choose to forgo some pleasures in exchange to do the hard thing and reap long-term benefits.
And so, many people:
are bad learners because the moment they're faced with something difficult to solve, they back out, annoyed that they aren't as perfect as they thought (you can't look bad, better to do easy stuff just so you can look like you're competent),
experience mental breakdowns because they got a parking ticket or dropped their smartphone (which they immediately have to replace with another expensive iPhone because a single scratch will cut their precious sensitive soft fingers),
eat (shitty food) every two to three hours because they absolutely can't experience hunger (and if they skip a meal for some reason, they're starving and never fail to announce it to everybody around),
have extremely low pain tolerance (from my experience, women are much stronger than whingy men in this aspect),
avoid all kinds of challenges which leads them to living a mediocre life while being envious of and criticizing successful people (they fail to realize that people become successful not because of luck, but because they're willing to suffer).
Very few people willingly opt for discomfort.
If there's a staircase and an elevator, most will choose the elevator. Few understand that even if the stairs aren't as comfortable, they offer you the opportunity to engage in a natural and healthy movement which most desk-bound people desperately need.
If a person feels hungry, they immediately run to the kitchen to grab something to eat. Few skip a meal or two, even fewer skip an entire day of eating just so they can grow their willpower and/or reset their bodies. After all, you'll die of starvation if you skip your daily portion of highly processed foods, right?
If a person is scared of heights or have any other fear that repeated exposure could eliminate, they avoid any situations where they can experience this type of fear. Few deliberately - despite feeling the exact same fear as the weak people - engage in scary situations to overcome their fear.
If a person gets diagnosed with high blood pressure or cholesterol levels, they'll choose a pill over implementing healthy habits in their lives. Few understand that as uncomfortable as establishing healthy habits is in the beginning, it's the only viable solution to stay healthy (barring any unpreventable conditions).
People will look at you like a crazy person if you start intermittent fasting, taking cold showers, walking more instead of driving, saving money, abstaining from alcohol, dressing better than an average slob, or traveling to exotic, uncomfortable destinations instead of staying at a 5-star hotel at the beach.
What's the moral?
If you can't tolerate
willingly imposed
discomfort that you can easily escape if you decide it's too difficult to handle, how likely are you to tolerate discomfort that you're guaranteed to experience on your entrepreneurial journey - discomfort that you can't evade?
The next time you experience discomfort, don't run away from it like every other weak person.
Look at it as an opportunity to get stronger. Embrace the difficulty and the pain involved in handling the uncomfortable situation.
Rinse and repeat, and with each passing year, fewer things will bother you. Which is a nice side benefit: thanks to welcoming more discomfort in my life, I'm a much more laid-back person today than I was just a few years ago.
I still sometimes fail and find myself incapable of dealing with some situations, but just like entrepreneurship, it's a journey. You can start it today with a simple cold shower.