Facebook Marketing Enthusiast
FASTLANE INSIDER
Read Millionaire Fastlane
I've Read UNSCRIPTED
Summit Attendee
Speedway Pass
Sep 24, 2012
615
807
341
41
A couple of months ago I saw this billboard advertising and event hosted by Daymond John at a local strip club (this is the image from the local newspaper).
​
It eventually got canceled but nonetheless it looks pretty desperate for "The People's Shark" to even consider appearances at venues like this.
Last year, I saw ads for a free wealth building summit hosted by Daymond.
I signed up to attend (as it was literally across the street from where I live), but never went after I found out it was a one big pitch fest for some get rich in real estate program for a few thousand $ + some more upsells farther down the road. I actually know someone who paid $2k for the first offer and said the event they paid for was a total waste of time.
Here is the ad similar to the one I saw. He's been doing it all across the country.
Read more on Reddit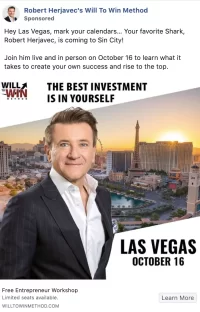 ​
Is there really so much money in these events? Aren't these guys worth hundreds of millions of dollars? Are their Shark Tank investments not doing so well and they need some quick cash.
It seems so sketchy! They're preying on struggling entrepreneurs and scam them out of their money without providing any value.
Don't like ads? Remove them while supporting the forum. Subscribe.