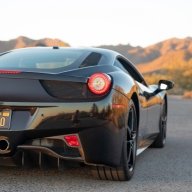 8 Figure Fastlane Graduate
FASTLANE INSIDER
Read Rat-Race Escape!
Read Fastlane!
Read Unscripted!
Speedway Pass
User Power
Value/Post Ratio
624%
Jun 20, 2017
410
2,559
41
So I just crossed the exact date when I said goodbye to the slowlane world, 15 years ago.
I was 24 years old, living in the Midwest working as an engineer for a Fortune 500 company, and made great money for a single bachelor at the time. They pleaded with me to stay, offered me better terms and threw more money in my face – but nothing could have stopped my ambition and the desire to get into warmed ARIZONA pastures!
This is Summer 2007. At that point I was a
disappointment in my parents eyes
, abandoning my 'prestigious job' and doing 'god knows what' with my life.
I left my job with nothing lined up outside of a sweet 4 bedroom rental on the west coast. I also felt like I was onto bigger and better things coming up.
I had a little bit of money saved up from my 'slowlane' job and some online marketing that I was doing that proved to be (short lived) but lucrative. I took a one month EUROPE trip with my friends, then packed my bags, jumped into my 5-series BMW and made the cross country trip to Arizona. I was a young ambitious dude living in the land of sunshine, a sweet bachelor pad with several roommates, 'partying' ... thinking that life couldn't get any better.
With time, all of my money dried up, to the point that I was starting to get into credit card debt. I was panicking. I started throwing out 'job' applications left and right. I moved to a cheaper part of town. I was calculating if it was less expensive to buy myself a chipotle burrito or spend the money on gas to drive to my girlfriends house ½ hour away to get fed there. I remember panicking over buying a movie ticket for myself and her at one time.
After several interviews (circa 2008), with none of them panning out, I felt defeated. Countless others around me were climbing the corporate ladder, getting yearly 3% promotions, and upgrading their Infinitis to the latest model.
OMG DID I ROYALLY F*CK MY LIFE UP
by leaving my 'slowlane' job I kept on thinking.
Every company had 'hiring freezes'. My degree, which was useful in the midwest was all of a sudden worthless in Arizona. I almost landed an 'opportunity' to slave away once again, at a chemical plant, 45 minutes away under bosses that would watch my every move. SO glad they passed on me at the time. One of the interviews I had there STILL haunts me to this day.
I HAD to do something. With
real estate
crashing all around us, I took a
real estate
course figured it would lead to somewhere. I didn't want to become a realtor and had absolutely zero capital or income to invest, so hit a dead end there.
I deemed that getting MORE education was the right path (and an excuse to delay inevitable reality) – so I signed up for 2 more years of college to get through. Figured it would also give me a bit more 'time' to figure it all out. I STILL knew there was a better way.
I was simultaneously reading everything I could (around the time Four Hour Workweek and
Millionaire Fastlane
came out) – and spurred my a$$ in gear to try and think of ideas.
Ironically also at my lowest,
@MJ DeMarco
(unknowing to me who he was at the time) lived not that far away from where I was and I saw his bright orange LAMBO with the 'DOT COM' license plate being whipped around town. I still have a picture or two of it saved from my old flip phone tucked away on my computer. The only other time I saw one of the same LAMBOS was down in South Beach a year earlier with SCOTT STORCH and LIL KIM cruising together.
'Famous Music Moguls - of course!!'
As I enviously looked upon MJs ride -- 'That dude is living the life. He must own the entire internet'
- I told myself as I countlessly recall seeing that beautiful topless MURCIELAGO enjoy the gorgeous Arizona days.
I had less than $1000 in my bank account and roughly $10K of CC debt piling up. Even though I've always been 'entrepreneurial' and driven towards setting up my own business - nothing was working out for me at the time.
Unknowingly to him
@MJ DeMarco
did for ME what the Countach 'INVENTOR' did to him in the MFL story. HE reconfirmed that it is possible to be young and rich without athlete status or a trust fund emptying it's wallet onto you at 18.
It was around the same time that I picked up
TMF
and not only did everything start making more sense, but the book reconfirmed everything I believed to be true deep inside of me. Slowlane was not the answer to the
'young , rich and fabulous life'.
Moving forward -- many, and I repeat many ideas and plans failed. Shortly after,
@NeoDialectic
and I were onto something and we started to bring in some money through an early e-com business we started and some affiliate marketing that picked up.
The rest of the story can be found here
Fastlane Exit
.
Reflecting back on these 15 years , with now my 40th birthday coming up -- man it feels like an entirely different lifetime ago. I have went through so much risk, trial and error, uncertainty, worry, panic, countless decisions, hiring and firing employees, working out of an apartment to going through bigger and bigger warehouses, gains and losses and eventually a FASTLANE 8 FIGURE EXIT in 2021.
To also paraphrase MJ - I did not grow up with money (we were middle-lower class at best), am not blessed with movie star looks, athlete proportions, their stamina or vastly any other significant talent that I could have monetized. I took out my own loans for all of my education, and went to average public colleges. I was nowhere near valedictorian status, and always knew how to do 'just enough' to make grades. I tire quickly, and I am an introvert as well. Always had a few close friends, but far from a 'networker' or someone who just tries to get out there in front of people.
BUT - I also wanted and believed I can achieve Lambos, luxury world travel, 5 star meals on Thursday and as much coffee as I wanted any day of the week. Why shouldn't I?
And all that and MORE came true for myself.
MJ's premise in the book kept that dream alive for me, and there is nothing that was stopping me. I'm still happy and glad I took that courageous move back on that great summer day in 2007 and never looked back.
Looking forward to the next 15 years, giving back and encouraging young lost souls such as I was 20 years ago, thinking I had it all figured out. There are plenty of things that 'could have' or 'should have' been done different - but I wouldn't change a single part of my story for the world. The main takeaway is to start young -- and know that the FASTLANE dream and success is not only possible, but highly REALISTIC.
---------------------------------------------------------------------------
P.S. and if any of you are WONDERING, I did pick up a
BEAUTIFUL BRIGHT ORANGE $300K DROP TOP LAMBO
at one point of my journey.
Last edited: