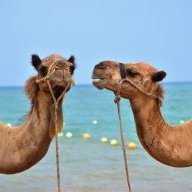 Contributor
Read Fastlane!
Read Unscripted!
User Power
Value/Post Ratio
119%
Dec 21, 2018
58
69
Hi all!
Being a newbie to this forum, I have searched high and low for an appropriate blogging thread for my question, but - even though I found some useful advice - there was none. One of the previous threads even died after crypto mining was mentioned, which strongly suggests a crypto analogon of
Godwin's Law
. But I digress.
So, for those of you who have an
established blog
- older than, let's say, 6 month, and with more than 30 real and valuable articles - what are the ways that you use this blog to directly and indirectly increase your revenue and profits?
I know there is a lot of nonsense about this out there, like legions of blogs about "monetizing your blog" that are abandonded after 3 posts (as aptly described in
UNSCRIPTED
). So, preferably, let's talk about blogs that are about any real world issues, not about "passive income" et al.
I'll start with a couple of entries:
- Using the blog as reference and source of work samples for freelance clients.
- Being found by potential clients through the blog, leading to service inquiries.
- Accepting sponsored posts for a fee.
- Advertising.
- Offering bonus content for paid subscriptions (also see TFF, which admittedly isn't a blog).
So far, I've done the first three of them on my blog (a non-English blog in a rather expensive niche with a B2B and B2C audience, but not a sufficient number of visitors yet to consider advertising, though an okay growth rate). My backstory is
here
.
All I know about advertising on blogs I learned from
"Chaos Monkeys" by Antonio Garcia
, an excellent description of his experiences with his ad tech startup and on the Facebook Ads team. It was not written from a website owner's PoV though, so I appreciate your experiences there too. (I've also been reading about the issue on TFF.)
Please:
- Add how you've been using your blog for fun and profit.
- Elaborate on your own experiences with any of the existing points.
Thanks!