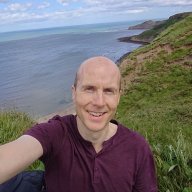 Bronze Contributor
Read Fastlane!
Read Unscripted!
Speedway Pass
Currently listening to Die with Zero and getting the realisation that I need to be enjoying my life more while I'm still young.

Some experiences can only be made while you're young and healthy.
I enjoyed that book. Loved the concept of the "memory dividend" that experiences pay. Gave me a different perspective on the cost of experiences. Suddenly things that cost thousands seemed cheap when I thought about the joy they provided not just in the moment but for the months and years after.