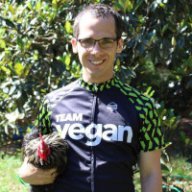 Bronze Contributor
Speedway Pass
User Power
Value/Post Ratio
342%
Apr 11, 2017
72
246
33
Here's a little update on the
goals
that I set for myself in a thread that was created exactly for what we will achieve until the next Fastlane Summit.
Completed my first Half Ironman. (I already registered for it, October 13 in NC)
It's going really well, there's not even a month until the event and I feel ready. I've covered all the distances that I need to do in swimming, biking, and running and did a lot of brick intervals so I feel really confident on that one. I remember how scared I was when I signed up for that event with 0 swimming experience and 0 cycling experience, I was terrified honestly. In my mind, images of me being ashamed of myself or admitting failures to my friends or family were so vivid in my mind and I feel so proud that I came that far and now feeling really confident going into it and never having these images in mind again. Here's a video that I made today about an update on the challenge. Talking about my training and my fundraiser associated with it:
View: https://www.youtube.com/watch?v=ggEaziHA6f0
Have a 5k/month revenue for my online business.
Guys, that's where I kick myself in the a$$ most. I've been searching for ideas and actually have a bunch of them written down, but I can't settle down on 1 and go start on it. I think it might be just fear, but I'm really not proud about that. I feel like I'm action faking, honestly, I don't feel it, that's the truth. I haven't settled on an idea and went 100% on it, so that
goal
is really not looking great so far. Does anyone has tips for me on that one?
I will be totally in a good optimistic state of mind 95% of the time.
I would say that I'm in a great state probably at least 70% of the time and I'm going on the safe side so this is definitely going well and I'm on track to be there. Exercises have been a big key with that as well as progress. Making a little bit of progress on my goals always makes me feel good and keep going.
I will have raised 5 000$ for Mercy For Animals.
I changed my charity. Mercy For Animals is a great one, but there are a few things that made me doubt that this charity would do the most good for my money because there has been a lot of change of President. I created a fundraiser for The Humane League instead who seems to be more stable and is rated top 1 animal charity by the animal charity evaluator website. I've raised over 1.5k yet. I've contributed a lot to it myself and I'm organizing an event to raise money as well and collecting from people I know. Here's the fundraiser page that I created if you want to have more detail on what it is or contribute:
http://bit.ly/thlFundraiser
I will greatly improve my skills with women.
I haven't focused on women a lot. I definitely improved my skill a little bit yet with people in general so I got more confidence in general, but not yet at the level that I would consider it 'greatly' improved.
I will help mentor at least 20 people that are interested in the vegan diet.
I'm mentoring with challenge22.com so I'm not helping people on a 1 on 1 basis, it's mostly through FB groups and I've done a lot of vegan activism as well. I'd say that I'm probably at 10 people so half way there.
All in all, I'm pretty good on most of my goals, but failing miserably on the 5k/month revenue on my business as I haven't taken enough action and still am at the idea stage. I don't feel good at all about it, but that's the truth and now I got to deal with it and make the change that I need to make progress towards that goal.
How are you guys doing on your goals? I'd love to hear!
Sincerely,
Claude