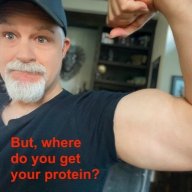 I followed the science; all I found was money.
Staff member
FASTLANE INSIDER
EPIC CONTRIBUTOR
Read Rat-Race Escape!
Read Fastlane!
Read Unscripted!
Summit Attendee
Speedway Pass
User Power
Value/Post Ratio
441%
Jul 23, 2007
37,479
165,413
If you want to discuss VEGAN opportunities created by the movement toward veganism, please visit this thread.
The Opportunity of Veganism / Vegan Opps
This thread is to discuss the lifestyle itself for those interested.
This is NOT a thread to discuss your world-view on meat or veganism.
Please note: I steered clear of the word "diet" because most vegans do not look at this lifestyle as a diet, but more of a life long choice.
I just fear that knowing my diet I will consume the fake meat 2x a day
Again, your cravings for the fake meat (and meat in general) should subside over time.
I have to tell myself that the point of being Vegan is to adopt a
plant-based
diet, not a meat replacement diet.
I'm at the point now where some meat is starting to gross me out.
Now the cheese, that's a whole other story!
Last edited: