Help people. Get paid. Help more people.
Staff member
FASTLANE INSIDER
EPIC CONTRIBUTOR
Read Fastlane!
Speedway Pass
User Power
Value/Post Ratio
373%
May 20, 2014
16,277
60,656
What's your best advice for those new to:
Working remotely and/or from home.
Having their team working remotely and/or from home.
Here's one that I wish someone had told me years ago. It would have saved me much pain and chiropractor bills.
Prevent "Tech Neck" with a decent laptop riser
If you're working on a laptop then try to rise it so the top of the screen is at eye level.
I bought loads of laptop risers in the last few months to try and find a decent one. Most were too low or too cumbersome. (They ended up as nice Christmas presents for youngsters with laptops from Santa.)
The one below is what I've settled on. It's light, small, folds away/out fast, and has the laptop nice and high.
NEXSTAND K2 Laptop Stand ... 30cm, Foldable, Portable
Here it is at our kitchen table this evening.
Notice how the lower edge of the laptop is NOT on the table - which is what happens with a lot of laptop risers.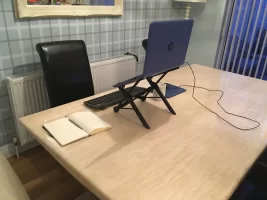 Last edited: