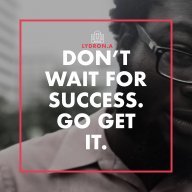 Contributor
Read Fastlane!
User Power
Value/Post Ratio
200%
Aug 23, 2018
30
60
28
Greetings All,
I recently joined the forum and would like to share my story and how The
Millionaire fastlane
book filled in the blueprint to the life I have been striving for.
The Start
I was born(1995) in the island of (T&T), a third world country in the west indies. I grew up in a low income home that did not last to my 8th birthday. The split immigrated me to the USA were i was homeschooled by my mother who had started searching for the fast lane dream. In substitute for middle school education I absorbed the information of my environment Day trading, Forex, stocks, Pips, Bloomberg, YTB, travel agencies, Rich dad Poor Dad, Napoleon hill, rat race, etc. These were my teachers at the age of 14. I was looking at (5min charts) move like mountains, buying trades when they look like they were climbing and selling when they would start to fall. This was not a easy period as my mother poured everything into day-trading, trading was like gambling and the guru's classes only encourage the addiction.
Faithful Accident
On the way back to my home state I was involved in a severe car accident which due to legal issues my family staying with family in the state and eventually settled there. Separated from the the trading environment the addiction slowly receded until it was avoided like the plague. My single mother receded into the rat race to provide the bare minimum, and My sibling and I joined the masses in public school. We bounced from various homes in the area so we could stay in the best public school in the county, going as far as using neighbors address because we could not afford to live in the school district any longer my mother drove early mornings before the sun came up to get us to a School. I Flowed through the motion of high school never blending with any particular crowd or group. My mothers desire for the Fast Lane was not diminished and she continued to learn while sharing her knowledge with me. At the age of 16 I was building websites with limited coding experience using wordpress themes. I started my first business in High school building websites for adults I knew and their friends. I reached my final year of high school to graduate and get my ticket to the loan office.. I mean College.
The Construct
I moved through high school faster than average so I only needed a very few credits to graduate. I meet with my councilor before the new year and shared my proposal for my new education. I suggested that I only go to school and take the courses I need to graduate for half the day and leave early so i could work on growing my website business. His response, "Your a smart kid i don't want you wasting your day" and proceeded to suggest I fill my schedule up with some arts and craft or recreational activity. I reluctantly followed his suggestion since he is the teacher, he wants whats best for me right?
A New Direction
My family moving situation had not changed and i was now residing in the basement of my not so favorite aunt. My mother continued in the rat race scraping by and meet another fastlane dreamer along the way which inspired a brilliant idea. To develop an online school that would help prepare countless entrepreneurs with starting their business. And having real professionals teach and give them advice. I was offered the option to home school around this time period and weighed the choices of going through the motions of another slow school year of irrelevant events and masquerading peers or freedom?
First Failed Business
Freedom, my new "freedom" allowed me to continue growing my client base in web design, Clients shared my services till it was out of my comfort zone. All the while I assist in building the online educational school with my family. The idea was a big hit, the people flood in, I learn videography to cutdown on cost of renting a studio. We went to all types of meet ups and were the center of attention, joining our community was "the new thing" The start up grows faster than expected and the business tanks because of bad money decisions by our new family member. My family goes into a depressing slum after the failure and is forced to moved to a famously dangerous city in US.
Realestate
In this new city my grandfather started on his own dream of fast lane life by investing in cheap dilapidated homes that he would renovated himself and rent. It was one of these homes my family moved to, We moved in the same day he evicted one of his worst tenants in history. During this period I worked with my grandfather and his tradesmen renovating homes and doing maintenance work. MJ mentioned working as a day laborer during his journey and I must say I as well hated the work, its tiring, dirty, straining, and overall taxing. I worked and also learned I never imagined the skills I developed would ever come in handy in the future.
First Property
During this time my mother alone started looking for the fast lane dream again, inspirational audios played through the home daily. She was determined to get our family our first home, with a lower than minimum wage paying job and no credit to talk about she worked to purchase our first family home which she did with crowd funding and saving what little she made, I assisted with whatever profits my declining online business produced. A year later the first home we bought was a 5plex brownstone foreclosure by bank, the home had moderate fire damage in one of the apartments and was abandoned. The cost to renovate was more than we could handle and the house could was not in a livable condition. We bite off more than we could chew.
Second Property
The search continued and we found another home 2 blocks away from the first this time a duplex that was being renovated but fell through with the bank halfway. We took the opportunity and followed the same acquisition process to attain the second house. Now with a newly acquired home my family got to work DIY flipping a house to call our own. We worked late nights through the winter to get the renovations finished. My family all learned new trades to reach our
goal
, there was no budget, the material for the project was bought paycheck by paycheck and sourced from local material reuse stores till the house was completed. At the end of that year my family owned our first home mortgage free. That also generated income from the second apartment.
Renter becomes the rentee
Becoming a landlord was an great feeling especially when you were on the opposite side of the for most your life. The renter becomes the rentee, the thought always comes to mind around the first of the month. This new dynamic lead to meeting of other landlords who had difficulties managing their own properties and tenants, We assisted some landlords in finding quality tenants and they spread the word of our services, and with that our property management portfolio grew, and a new business was born. With our new knowledge in renovation, property maintenance can be handled in the family instead of outsourced. We fit right in and the landlords/tenants are very satisfied with there service.
I Was Already Fast lane
My opinion on construction and trade work has change because I feel motivated providing good service to my tenants. All the profits from the property management business is being poured into renovations for the first home we bought (5 Plex). My family still does most of our work ourself and is currently in the process of renovating this large house on a small budget. It is during this process that I discovered the book "The Millionaire fast lane" while looking at inspirational videos on Youtube I saw a video that lacked views compared to its counterparts titled "15 business books everyone should read", yea sounds cheesy but i said what the hell and clicked it. I grabbed a note pad and wrote down the ones that peeked my interest the obvious big names were on the list but they got to #7 and mentioned "The Millionaire fast lane". The intro hit home like a brick "a kid who saw the lavish lifestyle and was determined to worked towards getting it?", THIS SOUNDS LIKE ME!, I noted it at the top of my list and wrote some others. I started my search for the book and
I must apologize
to MJ for first starting my reading on a PDF I found online, but I did not get through chapter one before i realized my mistake and promptly purchased the book on audible to learn through my day.
The Blueprint
I shared the book with my mother and she's has read it 2 times. She said the blueprint that she has been trying to work towards most her life without a guide or a name to call it, this way of life was all clearly explained in formulas in this book, our views personified in the pages. Work hard now and enjoy true life after, pay yourself last, the education
system
wont lead to real success. These ideas didn't feel so alien anymore, Breaking away from the masses wasn't a mistake, The process to our destination became that much more clear. I learned some hard truths about what real wealth is vs. the flashy life style I envisioned. These truths did not deter my determination to become a multimillionaire but influenced how i viewed money as a whole involving freedom.
Goals
My goals are to build a Realestate empire to create generational wealth for my family. I aim to semi-retire in my late 20's by passive income from my Realestate investments. In the time following I will travel the world exploring places most people don't get the chance to experience in their lifetime. Following my travels I will then use my time investing in futuristic businesses or starting some of the dream business ideas I developed while building my Realestate business .
Currently
I am still working on my 5-Plex aiming to be completed by the end of this year.
Thank you @
MJ DeMarco
f
or your book and wisdom, I am currently reading
unscripted
.
TL;DR: Broken home boy from the Caribbean gets to the USA with notting and starts investing in
real estate
with family to create generational wealth.
Last edited by a moderator: