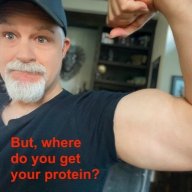 I followed the science; all I found was money.
Staff member
FASTLANE INSIDER
EPIC CONTRIBUTOR
Read Rat-Race Escape!
Read Fastlane!
Read Unscripted!
Summit Attendee
Speedway Pass
Jul 23, 2007
35,344
140,444
I understand that there was a meeting out here in Phx recently and some of you met RK.

How'd that meeting go? What were your impressions of the man?

Im surprised I haven't run into him ... I frequent the snooty restaurants in his neighborhood.