BB
Read Millionaire Fastlane
Speedway Pass
I was reading Biophase's thread,
Stuck? Change Your Environment!
,
and it occurred to me that I needed to move from my boring kitchen table, and set up shop in one of our
empty
rooms that I would actually enjoy walking into every morning.
I live off a golf course in a small town called Mansfield, Texas. So I didn't have to make a dramatic move since I am happy here, but I did need a way to enhance my mood to help with productivity.
So I bought a bright orange rug, painted a wall green and set up shop. The environment that you work in really can play a role in your productivity. Just like Biophase explained in his thread, "It just shows you what a change in environment can do for you".
No matter where you work, post what kind of
environment
does the trick for you with pictures if you are willing. Are you a basement dweller or do you need a fresh breeze every morning like Biophase?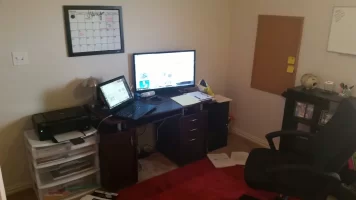 Don't like ads? Remove them while supporting the forum. Subscribe.
Last edited by a moderator: