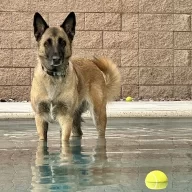 Legendary Contributor
FASTLANE INSIDER
EPIC CONTRIBUTOR
Read Unscripted!
Summit Attendee
Speedway Pass
User Power
Value/Post Ratio
468%
Jul 25, 2007
8,592
40,234
I know this has been said over and over again, but I am experiencing it again right now. 10 years ago I moved from Chicago to Arizona and the change in my life was dramatic. After 10 years, I got used to living in sunny Arizona that the environment is not as productive as it once was.
This summer, to avoid the Arizona heat I decided to lease a condo in Crested Butte Colorado, which is a mountain biking mecca in the USA. What I did not realize was how productive it would be to live here in terms of work.
I brought a table and my desktop with 2 monitors. I have it set up next to a window which has views of the majestic mountains here. I have gotten so much work done here. And I think it is due to a few things:
1) I don't know anybody here, except my friend who is also here with me.
2) My workstation is next to an open window, fresh mountain air blows in all day and my view is great. I don't mind sitting here all day.
3) We both wake up, turn on our computers and get our morning work done. She also has an online ecommerce store.
4) We make a daily morning mountain bike ride. This is our workout and we are so tired afterwards that we just stay home. We ride every day and had to force ourselves to take a rest day because our legs are so sore.
5) We work on our businesses all afternoon and night. There's nothing else to do in this town except mountain bike. All restaurants and gas stations close at 8:30pm. We have wanted to go see the movie Edge of Tomorrow for two weeks now, but it's not even playing within a 3 hour drive from us.
I did not expect to get much work done here, but it has turned out to be the opposite. It just shows you what a change in environment can do for you. We have a daily routine and it certainly helps when there are no distractions. Maybe all some of you need is to move to a small po-dunk town with nothing going on.
My office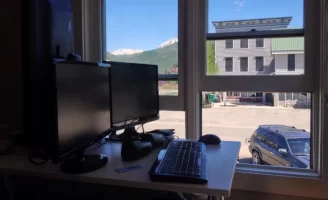 5 minute hike outside of the condo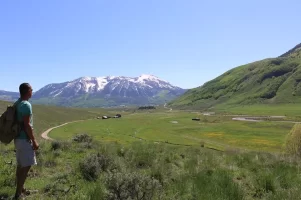 Our daily workout ride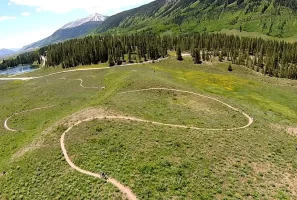 I can't believe I'm living here!