Contributor
Read Millionaire Fastlane
I've Read UNSCRIPTED
Hi,
okay, this isn't really something new, but during this summer vacation I felt a need for the following item that I would actually buy:
It would be really nice having a
cheap automatic plant watering
, where there is also the opportunity to
control it from remote
. I have a lot of sunflowers on my balcony which are quite thirsty in the summer months, needing watering every day.
The idea would be something like I lie somewhere at the beach, open an app on my phone, take a look at my plants through a camera and switch on my watering, or, alternatively, switch to an automatic program.
Out of curiosity and as a first shot I built an ad-hoc plant watering on my balcony (see video and pic), without any remote control so far.
View: https://youtu.be/nuq1i-I2zDA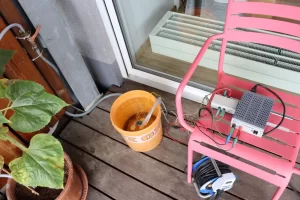 The thing is very primitive as you might recognize at the first glance. It just consists of a small pump, a float switch, a small box which separates pump circuitry and float switch circuitry (via relay), a clock timer and wiring. Plus, of course, the mechanical parts (hoses and a valve).
The advantage: It was cheap (around 20€ for the electrical parts excluding the power supply, around 10€ for the mechanical parts), and I was able to build it quickly with recycled parts in under 1h.
As we are discussing ideas and basic concepts I would appreciate
basic feedback
for the idea of
further developing such a watering device
. As mentioned, I want to implement a remote control via android app, and on the mechanical level it would be cool having rather a kit with different-sized hoses, valves and hydraulic distributions.
With a
Raspberry Pi
for instance, one is able to devise a remote control via a couple of lines python code (Input/Output ports) that can be activated via app, and also to connect a camera (but I have not much experience with a Raspberry Pi so far). Of course that cannot be the actual solution if I want to scale this (?) since a Raspberry Pi costs between 80€ and 100€. Nobody would buy a plant watering for >100€ I guess.
Goal would be of course as always, developing something low-priced that fulfills an actual need.
Before I created this post I made some mandatory quick research of course, but I wasn't able to find something in this context that I would actually buy. If you have something like a link, I would really appreciate it.
This thread on the FLF was quite funny to read:
Why did this product fail?
But anyway, thanks in advance.
Don't like ads? Remove them while supporting the forum. Subscribe.