Rant time
- using
@Droopynips
as an example...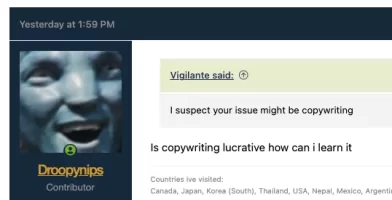 Who you are speaks so loudly I can't hear what you're saying - Ralph Waldo Emerson
Look, if you are so lazy to not even format your posts correctly then don't expect much response from these forums.
And don't expect much success in business either.
Why?
Cause it screams at others that you are lazy.
Lazy AF.
So lazy you can't even capitalise your "
I
"s or add in a full stop or comma.
Instead, you post everything in 2 seconds flat, and then expect everyone else to take chunks of their time to respond.
It is pure laziness, and it is also shows you have a massive entitled mindset.
Thinking that people here
have to
help you - but they don't.
"but i want success who here will help me i want this so bad?"
Probably no one - because you just straight up look like a total waste of time and effort.
Successful people on these forums
love to help others
,
BUT
only those who will actually be worth teaching.
They have to choose (with their limited time) to reply to your thread, or just move on to someone else's.
And when your
username, profile pic, writing style and grammar
ALL look super sloppy -
then you are a bad investment
.
You can't even make any effort to present yourself well - why would a top people try answer your sloppy low-quality questions?
So you just end up creating more and more lazy posts - with less and less people paying any attention.
It is actually so damaging to write in this style that plenty of people assume you MUST be trolling.
That maybe this is just some kind of joke, or that you are 11 years old and just got your first laptop.
This is how much damage a sloppy approach to life can get you. Your reputation becomes literally zero.
----
In @droppynips's example above he seems to want to learn copywriting...
"Is copywriting lucrative how can i learn it"
But here is what a top forum member quickly sees:
✓ - No full stop or comma
✓ - Money chasing language
✓ - Trolling / sloppy username
✓ - Profile pic that is equally as dumb
✓ - Small "i", so he can't even bother to write correctly
(yet he wants to learn copywriting?)
✓ - Doesn't give any context as to why he is asking this
(this being his nth post on some random idea)
✓ - Post shows he did zero research or even thinking first
(the forum has full threads on this topic already)
✓ - Doesn't give any actually plan or purpose as to what he will do with the information (
which is most likely nothing
)
Maybe this sounds harsh, but successful people have a
strong filter
for who is worth helping.
Their time and advice is limited - so you best to show up looking like a good use of time.
---
Look, you can read this and say "
screw this Fox guy, I will post however I want!
" - and you do have that freedom.
But you don't get to decide how others will filter and classify you...
- As either an up-and-coming forum member with lots of potential
- Or another lazy joker passing by who is trying to use the forum as their personal assistant
And the vibe you give off is
directly proportional
to the help and support you will get.
"But what if I am not good at writing, or English isn't my first language"
Okay... but you can still take a few moments and run your writing through a basic text editor and grammar check.
And you don't have to be some fancy writer to give your question so basic formatting or stick a full-stop at the end.
People aren't looking to treat your post as an English essay -
only that you are actually trying and worth helping
.
So... if you are new and reading this, take a few moments every time you post and clean things up!
This little habit will mean this forum gives you a
LOT
more of its time, effort and knowledge.
And down the line that could equal a massive change in the results you get and the life you enjoy!