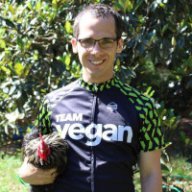 Bronze Contributor
Speedway Pass
Hey Guys,
I'm really not proud of that one, but I feel like I'm probably not the only one who has dealt with this issue at a certain point in their life. Basically, 5% of the time, I find myself feeling jealous when I see some people that are succeeding a lot more than I am in either financial success, relationships, or even health. There seems to be no relation to the people that I'm jealous of, it can even be a family member that I deeply love, but there's a part of my that's jealous or it can be someone that I don't like, but still would like to have his results in whatever area he's more successful than me. I was listening to
Unscripted
yesterday and there's a chapter talking exactly about comparison and it hit me, I really want to find something that can help me and others as well.
It feels like my brain thinks that for some reason when others have better results than I do, it's taking something away from me and starts playing the comparison game which we all know is a losing game unless you're looking for inspiration. I believe that all of this is because of a scarcity mindset that is still a bit part of my brain. It's weird because intellectually, I know that it is just garbage and that this is not serving me at all, it's just wasting my precious energy. That's one thing that I'm really working on right now. Even though it feels fake, I'm trying to say the exact opposite and feel happy instead of jealous, when it happens and hope it's going to affect my subconscious and shift for good. Does anybody else has had trouble with that and if so, how did you solve it? Am I the only weirdo?
Thank you so much,
Claude