Legendary Contributor
EPIC CONTRIBUTOR
FASTLANE INSIDER
I've Read UNSCRIPTED
Summit Attendee
Speedway Pass
Jul 25, 2007
6,986
32,326
5,083
With all these threads about selling on Amazon, I thought I'd start a thread about how I go about starting a new ecommerce business. It may surprise you that I don't actually think about the product that I'm going to sell that much. I mean I do think about it, but that shouldn't be your main focus. Your main focus should be to determine how you are going to sell your product. Not where.
Here is an example, let's say you notice that the world can use another flipflop sandal company. So you decide that you want to make a more comfortable flipflop, maybe you use a special rubber with neoprene. You make new designs and great colors and spend $10k on your first shipment. You get them at home, launch your Shopify store and send a bunch to Amazon FBA. Everything is in place and...
crickets...
no traffic... no sales...
So now you start your Amazon PPC and bid on sandal keywords. You start Facebook, Instagram and Youtube, you get 100 likes, 100 followers, 100 subscribers... and again
crickets...
no traffic... no sales...
So what was the problem? The problem was that on the day that you decided to start the sandal company, you only thought about how cool looking your sandals would be. You thought about how comfortable they were and what the perfect colors would be.
You didn't think about how you would sell them.
And that's what I do. I do that months before the start of any business. You notice that I have a thread about
saving bees
that was started in Aug 2019. You may see me launch a business in 2021 involving bees. But the thought was started a long time ago.
So getting back to the sandals. This is what I would do.
I'm starting a sandal company. I sit down and think, how am I going to sell these? Because your answer here will determine your product design. There are so many ways we could go with this:
1) Sandals for charity or a cause, maybe giveback to cancer, ok make our signature sandal pink, really really bright pink. How do we market this? Probably partner with the american cancer society? Get influencers?
2) Sandals for running on the beach, maybe make the sole stiffer, maybe it is a little tighter? How do we market this? Make them in beach colors? Give them themes like turtle colors, sea shells?
3) Sandals for MMA fighters, maybe make them all black, get a fighter or rapper to wear them?
4) Sandals for after the club, make them foldable to put in a purse, probably don't need to be that durable, price them cheaper
5) Sandals for driving, I know mine are too big to drive stick.
So you can see that if you decide on how you are going to market them, you can build that into your product. And better yet, you have direction on what you are going to do while you are waiting for your shipment to arrive.
Let's say you decide #5, sandals for driving. Well then it is easy to create a FB and IG page for them. It is easy to know who you are going to target for influencers. You can starting following, car forums, street racers, drifters, etc...
So let's do an exercise. The sandal below is your first product. Landed for $4, most sandals sell for $20 on Amazon. How are you going to sell this sandal? Let's give it a brand name and then a marketing strategy.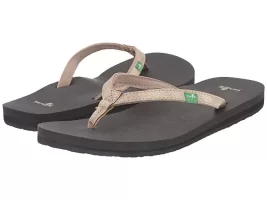 Don't like ads? Remove them while supporting the forum. Subscribe.