I usually run Chrome. For some reason embedded videos have recently not been loading. I loaded up the same URL in IE and there was the video.
But I noticed there were actually SEVERAL differences. I'm guessing these are not intended?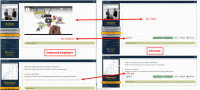 Don't like ads? Remove them while supporting the forum. Subscribe.