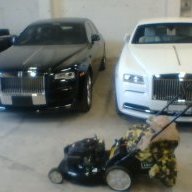 Platinum Contributor
Speedway Pass
fear is always a part of life, everything is all in your mind.

what if it fails? what if i lose all my money? what if i look like an idiot? what if i waste all my time and it fails?

its a part of the game we play, if it wasnt for this mental barrier id bet my money on most people not working a normal job, its much easier to just collect a paycheck and go home enjoy your few hours off then rinse & repeat head back to work.

some words from the great Felix Dennis

Salary begins to have an attraction and addictiveness all of its own. A regular paycheck and crack cocaine have that in common. Working too long for other people can blunt your desire to take risks. The ability to live with and embrace risk is what sets apart the financial winners and losers in the world.


If you are unwilling to fail, sometimes publicly, and even catastrophically, you stand very little chance of ever getting rich.

If you cannot treat your quest to get rich as a game, you will never be rich.

If you cannot face up to your fear of failure, you will never be rich.

I am convinced the fear of failing in the eyes of the world is the single biggest impediment to amassing wealth. Trust me on this.