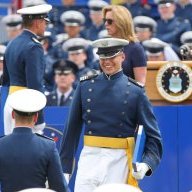 Silver Contributor
FASTLANE INSIDER
Read Fastlane!
Read Unscripted!
Summit Attendee
Speedway Pass
Hello! I'm new to the
Fastlane Forum
community and would like to introduce myself. I'm currently working for the federal government as an aerospace engineer, and am looking to take the plunge into entrepreneurship.
I graduated from the Air Force Academy in 2015 with a B.S. in aeronautical engineering. My childhood dream was to go to the Academy and become an Air Force officer and fighter pilot.
Everything was going well until a serious medical condition arose the summer before my senior year. I was hospitalized with multiple blood clots on both sides of my lungs and a clot in my right leg. I continued having clotting episodes for several months until a high dose of anticoagulants was able to bring it under control. My dream of being a pilot was immediately dashed, but I held on to hope that I could still serve in the Air Force as an engineer.
I was notified the day before graduation that I needed to complete a full medical evaluation board to determine if I was fit to commission. This lengthy bureaucratic process takes at least 295 days. Faced with a fifth year of living in the dorms, I needed to find a better option.
Second Lieutenant Kruse had orders to report to the Air Force Institute of Technology (AFIT) to get a masters in aeronautical engineering. Unfortunately for me, he didn't exist. While I was able to graduate on time, I remained a cadet and didn't commission as an officer. I spoke with my professors who graciously reached out to AFIT on my behalf. The colonels and their lawyers looked into the situation and agreed that if I could work out the logistics I could enroll in the master's program as cadet.
I received permission from the three-star general at the Academy to go on a leave-without-pay status. My parents were kind enough to support me financially while I attended AFIT. Twelve months into the 18-month program, my medical board was finalized. After appealing to the formal board, I was medically retired in September 2016.
Since I was separated from the Air Force, I no longer met the eligibility requirements to attend AFIT. In order to regain my eligibility, and in part to repay a self-perceived debt for my education, I accepted the first government engineering job offer that came my way. I moved 650 miles from school to North Carolina with the intention of finishing my master's thesis by correspondence.
Before I left, I spoke with my thesis advisor about my plans. He congratulated me on my job offer and I remember him telling me, "The purpose of education is to get employment, and if you got employment…" Those words and that sentiment stuck with me.
At first, I was excited about my new job. I got to work on real-life helicopters and I felt like I was providing value to the warfighter. My work was well-respected by my peers and senior engineers. So much so that after five months my supervisor thought my attention to detail would be especially useful on a different program. An assignment that nearly all the other engineers avoided.
Due to my sense of "service before self" from the Academy, I told my supervisor that if the organization needed me there, I would accept the transfer.
For the past 10 months I have been doing nothing but writing maintenance manual tasks for the new presidential helicopter. The work is mind-numbingly boring. There are so many inefficiencies and nobody is willing to make improvements. The helicopter is still being designed and modified, we can't actually see or touch an aircraft, and we are constantly fighting the contractor for technical data. On top of that, I have lost the sense of feeling like I was assisting the warfighter. Now I just feel like I am working on an overpriced replacement for a motorcade.
I spent about five months doing nothing but writing instructions on how to remove and install hydraulic tubes. Every day the higher-ups changed their guidance on how these tasks should be written. My suggestions were usually ignored. After going back and forth, a specific format was finally decided upon. With my suggestions disregarded, I asked my senior engineer for some crayons because I felt like a child being told to "shut up and color". And that's basically what I did. I put my headphones on to block out the distractions and just did the work. I often worked extra hours, sometimes even working 8-hour days on the weekends. My tasks were approved on schedule with minimal changes from the senior engineers.
I recently found out that the new leadership wants to have these tasks rewritten in a different way than the senior engineers told me to write them. Five months of work with all that overtime—just thrown out. I feel like I have no control over my job.
I've also been exposed to the mediocrity in government. Everything is based on time. Promotions for new engineers are automatic. The first after six months and then one promotion every year until you reach the working-level. There is no incentive to focus or work hard. Doing your work faster just has one reward—more work. If you do your job well, you get to do someone else's job too, all for the same compensation.
The people who drink coffee and talk all day get paid the same as someone working their tail off. The office socializers are probably even more likely to be promoted because they are popular with their coworkers. The attitude is contagious and I want to distance myself from it.
Shortly after starting my job, I also started volunteering as a firefighter at the fire department in my neighborhood. I find the work emotionally rewarding. Our "customers" appreciate our willingness to drop what we are doing and help them in their time of need.
With starting a full-time job and taking on the volunteer work and training at the fire department, my thesis has fallen by the wayside. I don't really see the value in finishing it. It won't make me any more money in my current job and it is not required if I wanted to apply to be a senior engineer. I feel like it would just help me get another job where I could trade time for money.
Finishing and defending the thesis are the only remaining requirements to get a master's degree. I was able to register for all of my research credits before I was medically retired, so there wouldn't be any out-of-pocket expense to finish it.
However, it's been almost a year and a half since I have worked on it. I was planning on having two full quarters with no other classes in order to work on it full-time in-residence. To complete it I would need to design my project, run the tests, modify as needed, and write my results. I've forgotten most of the specifics of what I learned in my classes and would have to do all the work in my free time because I need to keep that "indentured time" at work to maintain my eligibility as a student.
The thesis has been looming over my head since I left school. I've used it as an excuse to prevent me from trying any new ventures. I think it is time to abandon it. If I don't, I fear the "momentum paralysis" might keep me in the slowlane indefinitely.
I was a hardcore slowlaner the past few years. I was a huge fan of Dave Ramsey, literally eating beans and rice and saving a decent chunk of money. I read the 10X rule by Grant Cardone and eventually wound up watching some of his YouTube videos. In one of the comments I saw someone recommend
@MJ DeMarco
. I checked out his YouTube channel and was interested in what I saw, so I subscribed.
Just a day or two later, he uploaded the first video in four years, the
Unscripted
trailer. The video impacted me so I downloaded the book on 06 January 2018. I finished reading
Unscripted
last week and just finished reading The
Millionaire Fastlane
yesterday.
I want to design, manufacture, and market physical products. I have a simple pet-related idea and a more complicated firefighting idea. I feel like I have been "action faking" for too long and it is finally time to take the plunge into entrepreneurship.
I don't think there will ever be a better time to start. My only debt is the 9 years remaining on my mortgage and I have a well-funded emergency fund (Thanks Dave Ramsey!) I have two roommates that pay the majority of my mortgage and I receive a monthly disability pension from the VA. I even get my healthcare provided by the military. The Air Force has set me up well and removed much of the financial risks from the equation. I really want to work on this full-time. My job is draining my energy and making me miserable.
My medical episode and firefighting experience has opened my eyes to the fact that time is limited. Tomorrow is not guaranteed and trading my life for money is not how I want to live. I need to stop waiting and start executing!
If you made it this far, thank you for reading my rambling introduction. I look forward to starting this process with the
Fastlane Forum
community!