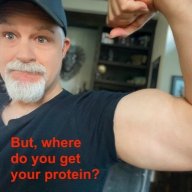 I followed the science; all I found was money.
Staff member
FASTLANE INSIDER
EPIC CONTRIBUTOR
Read Rat-Race Escape!
Read Fastlane!
Read Unscripted!
Summit Attendee
Speedway Pass
Jul 23, 2007
35,595
141,928
You quit after 1 year thinking the whole doesn't need more RE agents.

On the other hand, someone who is a hustler, becomes an RE agent. Kicks a$$, finds her clients awesome deals, is super detail oriented, closes every time. She gets referrals like crazy, makes $200,000 a year and now has an assistant, etc...
You're describing EXECUTIONAL EXCELLENCE which overcomes weak entry in an industry that boasts NEED, but has many problem solvers.
2 Es beat 1 E.
Can you do one based on options trading?
@theag
posted the analysis from the inside. Rep+ to him.