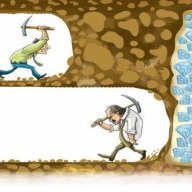 Never give up
FASTLANE INSIDER
EPIC CONTRIBUTOR
Read Fastlane!
Read Unscripted!
Speedway Pass
Alex Lieberman, co-founder, and Executive Chairman of Morning Brew, recorded an interesting episode on the importance of being a painkiller, not a vitamin in business.
The episode and the transcript is here:
Here's why you need to be a painkiller, not a vitamin in business.
foundersjournal.morningbrew.com
Per the article:
A painkiller in business is probably just what you would imagine: It is a product that solves a big, urgent problem. It is a need-to-have, and people will pay for it happily because it alleviates some big problem.
Then on the other side, you have vitamins, and vitamins solve small problems that may or may not be urgent. Vitamins are nice-to-haves, not need-to-haves, which is obviously the exact idea of these two concepts in real life. Go a day without a vitamin and you don't notice the difference. Go a day without a painkiller if you're in pain, you're going to suffer. My general rule of thumb has always been, build painkillers not vitamins, but I also think there's a lot more nuance to this rule and it can be applied in many contexts, not just products or business, but also your career.
It's also interesting to see how Alex applies this concept to his own business (Morning Brew newsletter) and explains why they don't charge money for it (because he considers it a weak painkiller).
He also shares an idea on how to you can market a vitamin as a painkiller (though I don't think it can apply to every product, just to some in some specific circumstances).
Some interesting takeaways from this for me:
Ask yourself if your business solves a big, ideally urgent problem, or if it's simply a preventative measure (most people hate prevention and ignore it so you're setting yourself up for a tough struggle if you want to sell vitamins/prevention).
If a content business is a vitamin or a weak painkiller, find ways to sell people painkillers (through ads, affiliate marketing, own painkiller-style products).
Being a painkiller company helps you and your employees believe in what they're doing. This is kind of obvious but still worth thinking about. If you're running a business anyway, why not focus on need-to-haves instead of nice-to-haves? It'll make your business more valuable and more resilient while increasing your engagement in it, too.
You can sometimes make people look at your vitamin-like product as a painkiller if you explain how it solves their current urgent problem. But I see it as way more difficult than simply starting with a painkiller (the right offer/hungry crowd always precedes your sales skills).
Are you offering a vitamin or a painkiller? Do you have a plan to transition from want-based problems to need-based problems? Is your potential client in sufficient pain to act now or are you trying to sell to people who don't really care much?